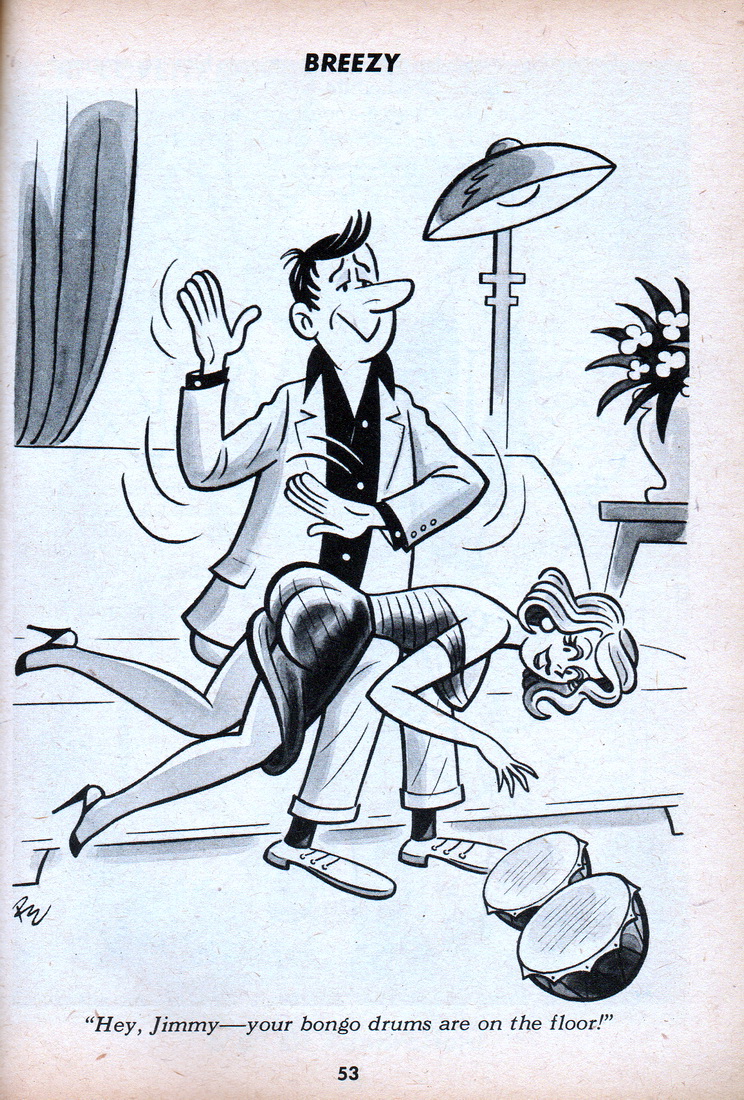 From Breezy (February 1959). From the collection of and posted by the Web-Ed on 06/28/2013 (click to double-size).
The second of the two Frank Beaven "spankers" we recently discovered in the February 1959 issue of Breezy features a bongo-style spanking. We've seen bongo-style before (see e.g. Harley/Batgirl), although not among the Humorama cartoons so far, but this is the first time we've seen the bongo-style spanking administered by an actual bongo player! (Bill Wenzel drew a cartoon with a very similar theme, but many years after this one and we haven't come to it yet in this series). Anyway, neither bongo-player Jimmy nor his unnamed spankee seem very upset about the fact that he's slapping a different sort of drum while his bongos lie abandoned on the floor - as we've remarked in the past, Beaven sometimes gives us a spankee who enjoys being spanked, one of the ways in which the classic Humorama cartoons were more erotic than the spanking cartoons that had come before.
The OTK position is quite good here, with the spankee's hips just a little too far back, which in real life would tend to cause her to slide downwards off the spanker's lap. The expressions are very good also, and with the spankee's nice round well-defined bottom help make this a fine spanking cartoon, showing that Beaven was one of the best of the Humorama spanking cartoonists apart from The Big Six (Ward, Wenzel, Stiles, DeCarlo, Homer,and Morrice). Interestingly, this is only the second time he did not have the spankee's dress pulled up to reveal her cami-knickers, perhaps because this and the previous cartoon are the earliest of his "spankers" yet known, all of which date from 1959 by the way.
And before we forget to blow our own horn, we may as well mention that this is yet another premiere from CSR that has never been seen on the web before.