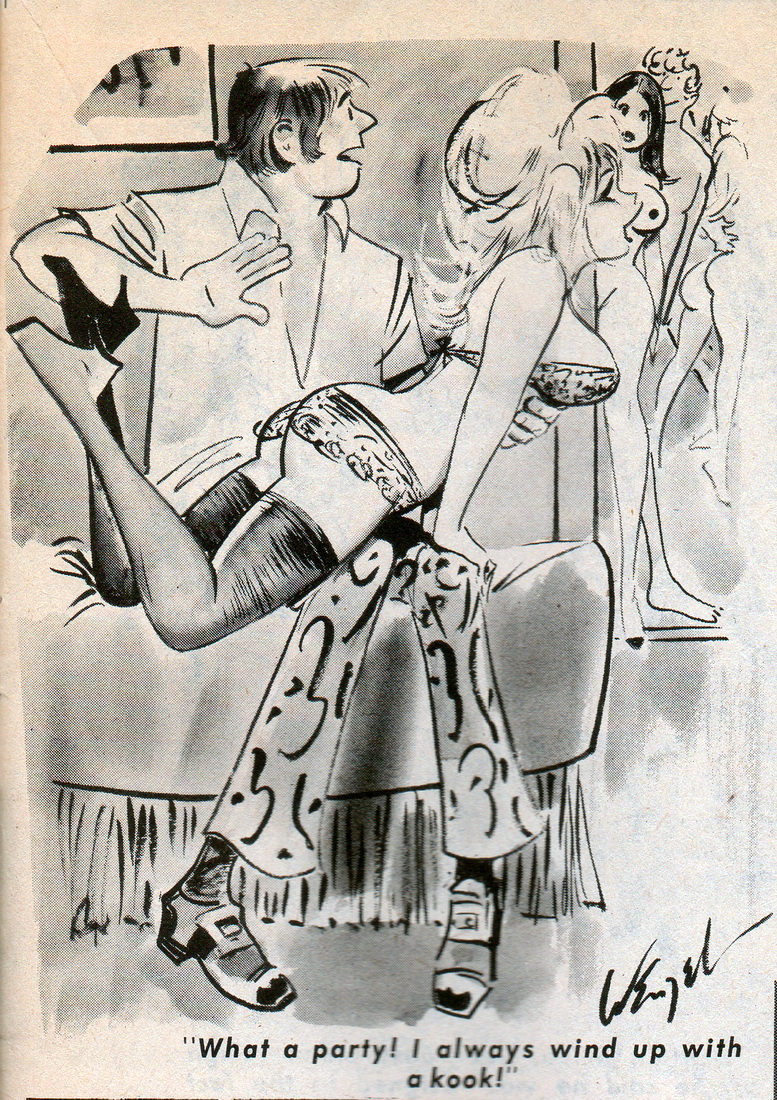 From Fun House Comedy (February 1980, click to double-size).
Bill Wenzel may have based this one on Tom Sutton's Bottoms Up Spanking, but whereas that cartoon was plainly set at the dawn of the 1960's, the time is much later here, probably late 60's to early 70's based on the clothes and hair styles. This is a good effort in many ways: the OTK positioning is at least fair, the spankee is slender and curvy and wearing very little, and the spanker is using the correct hand. The big problem here is the gag, and we don't know without the original art whether Wenzel or the editor was responsible for it.
"What a party! I always wind up with a kook!" Here are some of the difficulties with this:
The two parts don't go together at all - you can't "always" wind up with a kook at one party. "Oh, wow - Bill's parties! I always wind up with a kook!" would at least make some sense.
We can't tell whether the spanker or spankee is speaking.
If the spankee is speaking, it's kind of a put-down of us male spankers.
If the spanker is speaking, he doesn't know what he's missing! Either way, it's not too funny.
This is the third of four Wenzel "spankers" we found in the February, 1980 issue of Fun House Comedy and it has never appeared on the web before. We belive that it must have first appeared earlier, at the time depicted in the cartoon (probably early '70's).