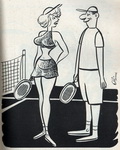 From Gee-Whiz (January 1960). From the collection of and posted by the Web-Ed on 03/27/2015. The artist is Jack O'Brien.
This time we have the second of what we have already called rather weak entries into The Humorama Series. In this cartoon, though, there can be no doubt that an actual swat was applied to the spankee's fanny with a tennis racquet, much as we saw with Archie swats Veronica. The joke here thus actually pertains to spanking, and the caption (whose absence we'll explain momentarily) reads something like "Perhaps you'd better work on your backhand off the court". It's not a bad gag, and we always like to see the spankee rubbing the affected area to indicate she felt the stroke.
The cartoonist is Jack O'Brien, who made two other appearances in this series, New Birthday Spanking and Jaywalker Spanked. O'Brien generally occupies a middle position among the Humorama cartoonists, better than many and with an original style but not quite up there with Ward, Wenzel, DeCarlo, etc. The expressions are good here with the spankee rather interestingly not too upset even though she can still feel the sting and the spanker looking quite satisfied indeed.
Now for our red-faced explanation of why we have no caption and only a low resolution version of this cartoon: it's a thumbnail of the kind we normally prepare for the Humor Gallery (index) page where smaller files are required to help the page load. The full-size picture file has disappeared, apparently due to accidental deletion. As we have since sold the digest it came from (the January 1960 issue of Gee-Whiz), we'll have to wait to see a better scan until we either find another copy or locate one of the three reprints we believe were published in later years.