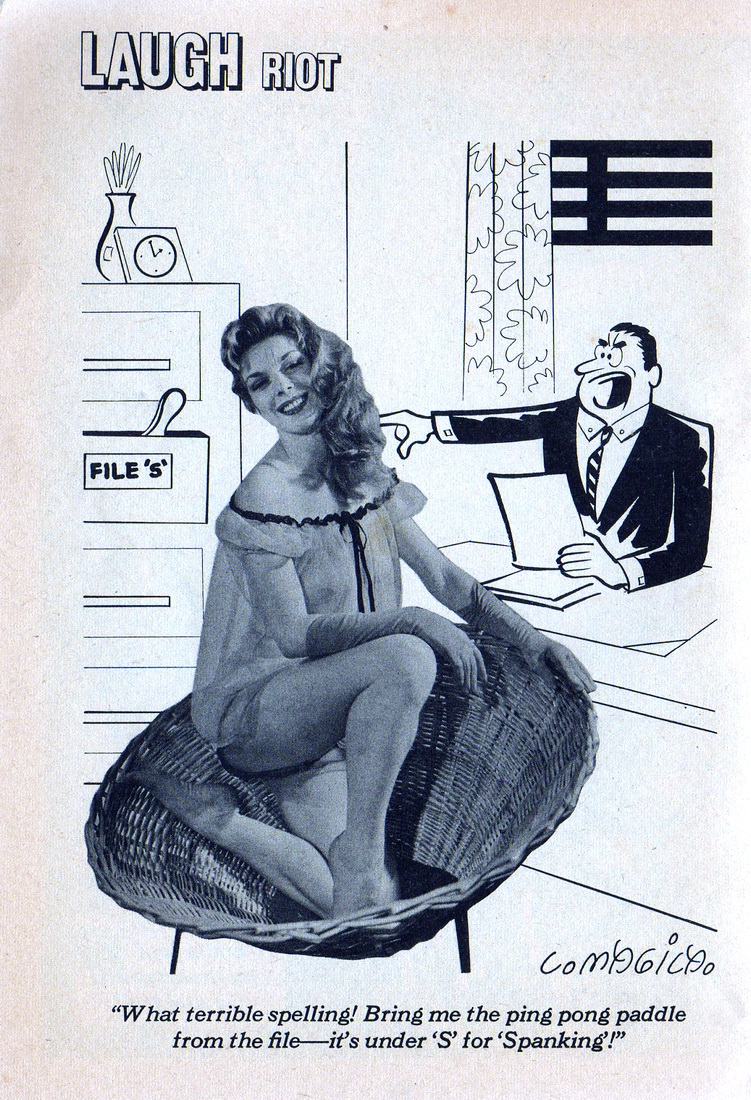 From Laugh Riot (April 1964). From the collection of and posted by the Web-Ed on 04/03/2015. The artist is Lou Magila.
The last of the Humorama secretary spanking cartoons we have is this one, #44, from Lou Magila. It should look a little familar for two reasons: (1) Magila, who was known for his weird collages that never made sense, did a spanking cartoon we saw earlier in the series: Happy Birthday Spanking; and (2) Magila took the idea for having a spanking paddle in the files from Kirk Stiles' Secretary Spanking #31.
The strengths and weaknesses are unsurprisingly pretty much the same as the Stiles cartoon. We have a very suggestive situation in which we know that a spanking (with a paddle whose handle we can see in the file) is imminent, but on the other hand we don't have any OTK position. Magila chose a Humorama model (we don't recognize her) with a big smile on her face, suggesting she's absolutely o.k. with being disciplined for her poor spelling. No doubt she realizes the beneficial effect on her spelling that getting her fanny paddled will have.
We found this cartoon in the April 1964 issue of Laugh Riot. We believe it was the second printing and will add more publication details as we obtain them.