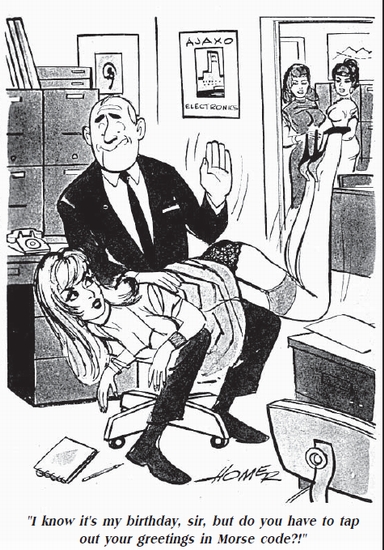 Posted by the Web-Ed on 06/17/2011.
Continuing our Homer mini-series we return to his normal M/F mode. This one takes place in an office, but editor Abe Goodman chose to mix and match several spanking gags, resulting in something of a mess. First we have our twenty-first Secretary Spanking, and it could have worked as a standard "spanked for dictation errors" cartoon, but then Goodman tried to make it a birthday spanking, and finally added a Morse Code gag, something like the one in Homer's Secretary Spanking #9. The result is a mishmash, although it still retains Homer's characteristic virtues and we like the two secretaries in the background, perhaps wondering if their turn is next.
Most of Homer's spankees seem to be willing and eager participants, but this one is a little different. Her attitude seems mainly to be one of acceptance, that getting spanked for screwing up is exactly what she expects. It's been awhile since that attitude could be found in the workplace, although there almost certainly were incidents like the one depicted here that took place in the 1930's. Displaced farm girls forced into the city to find work would probably have expected to get spanked on the job since that was their experience at home, and we have heard one very believable story that ran along those lines.