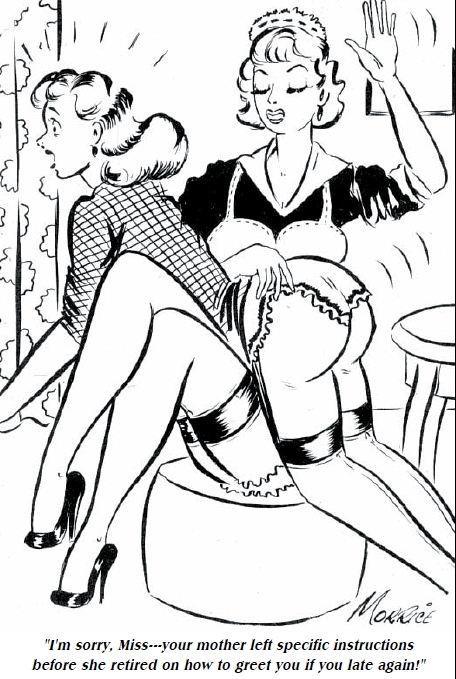 Posted by the Web-Ed on 07/29/2011.
We've seen plenty of maid spankings from Bill Ward (see Spanked for Flirting with the Chauffeur and Upstairs Maid) but here George Morrice turns the idea on its head and has the maid spank her young miss! For good cause, too - she came home late again, and her mother left the maid with strict instructions on the procedure to be followed in such a case. This is a reasonably good gag as far as F/F spankings go. Once again, Morrice draws standard cami-knickers, and he raises them up to come as close to a bare bottom as he can get. We generally dislike this approach, believing strongly that panties should come down, not go up (which looks terrible), but we'll concede the point here because Abe Goodman obviously did not encourage his Humorama artists to bare their spankees' bottoms. And since we've brought up the subject of bare bottoms (never far from our thoughts), we'd like to expound for the benefit of our younger readers on why there weren't many in the Humorama digests.
Humorama seems to go back to 1938. At that time, you could not have even partial nudity without risking prosecution under state obscenity laws. Later, when the first modern "spanker" appeared (1955 to the best of our knowledge), Playboy went as far as anyone and it generally confined itself to semi-topless shots, not getting around to showing the bare derriere in pictorial features and cartoons until maybe a year or two later.
Now, Playboy was controversial in its early days, and Humorama publisher Martin Goodman was no Hugh Hefner - he was willing to purvey some "naughty" content to move the product, but controversy was something he didn't embrace. That is probably why Humorama did not give us any bare bottoms in their spanking cartoons even though they could have gotten away with it by the late 1950's. They did in fact show some bare bottoms in their non-spanking cartoons, but perhaps with the "spankers" the non-bare pattern had been set early and the cartoonists just followed it automatically, or maybe baring the spankee's bottom simply seemed too sexually suggestive.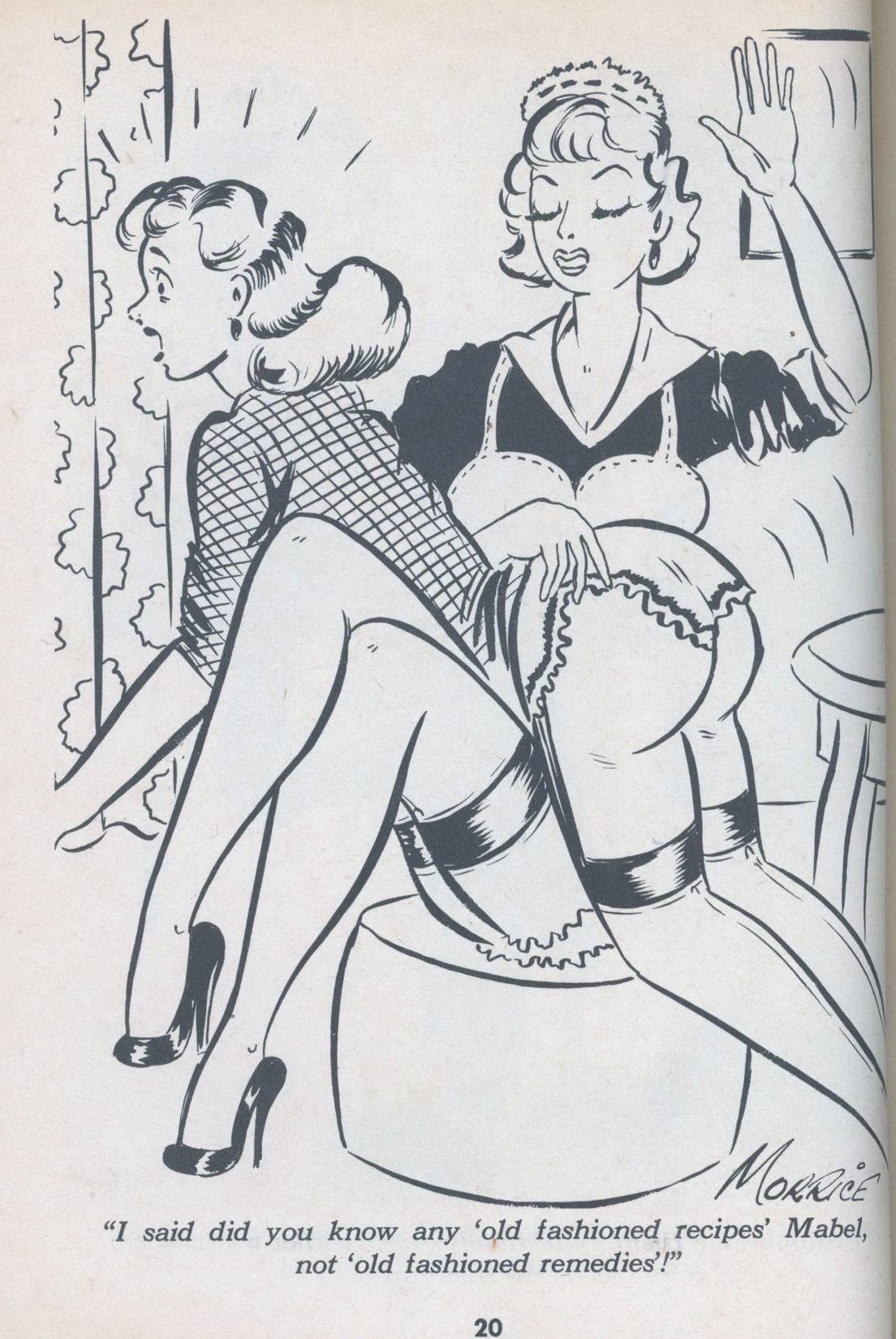 From the collection of Steve W.. Posted by the Web-Ed on 04/26/2013 (click to triple-size).
04/26/2013 update: Steve W. located the first printing of this cartoon in the March, 1959 issue of Snappy. It's good to have a real scan instead of a photocopy, and we learn to our surprise that the original caption was entirely different, depending on wordplay (recipes/remedies) instead of role-reversal (maid spanks Miss). We wonder which one Morrice intended?