It has been our great pride and pleasure to present The Humorama Series in this gallery. While those great spanking cartoons, most of them from 1955-1960, are the largest such body that exists, Humorama did have some rivals over the years and these rivals did have some spanking cartoons of their own. In this new series, Rivals of Humorama, we'll look at some of these rivals and, of course, their spanking cartoons!
To qualify as a rival of Humorama, we decided a magazine would have to aimed at men, be humorous, and consist either of cartoons and pin-ups as Humorama did or else of pure cartoons. Other types of men's magazines that occasionally handled spanking-themed material such as Playboy, Mr., JEM, etc. will be considered in a different article or series, to be posted in the future.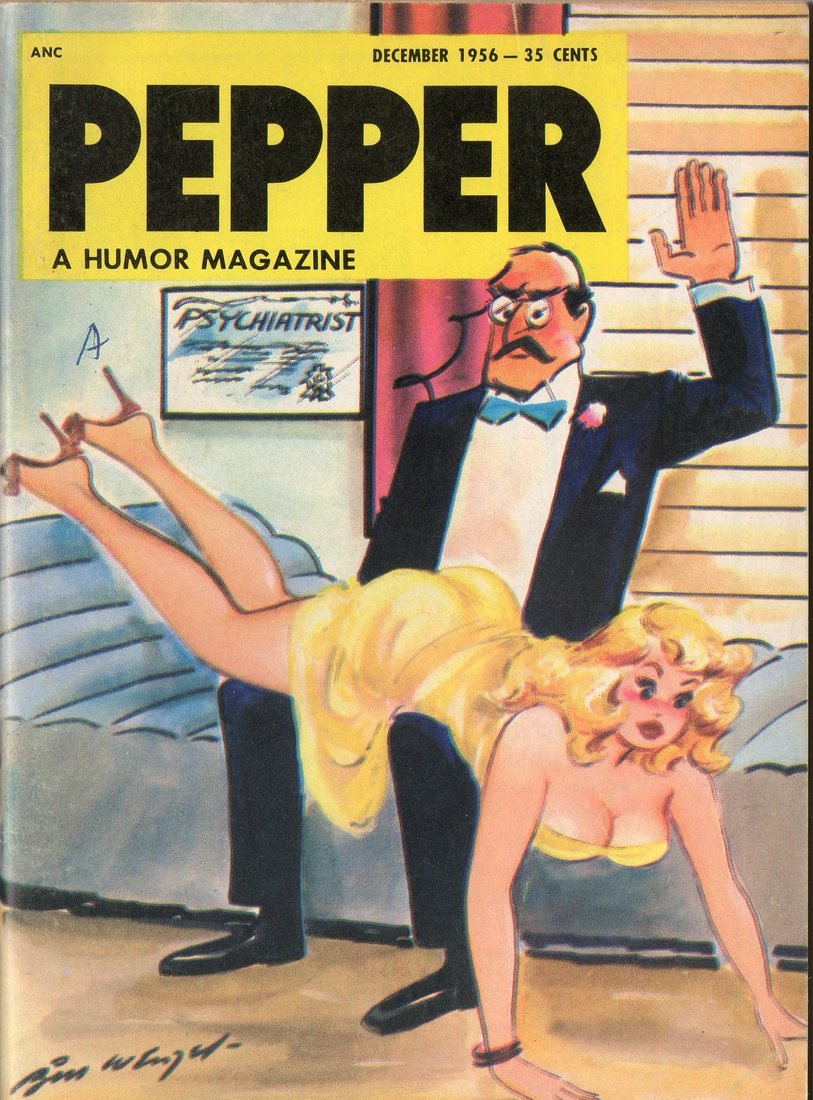 Art by Bill Wenzel. Cover of Pepper (January 1956). Posted by the Web-Ed on 3/04/2016 (Click to double-size).
To get us started is a book called Pepper, one of a line of digests that featured only black & white cartoons. You can see some of the other titles, Cartoon Jamboree, Mirth, and Smiles above. Exactly who published these digests is not clear: the indicia don't state the name. We exchanged some notes with another fan and raised some interesting speculations, but now we've forgotten what they were! Anyway, these digests were published for a number of years throughout the 1950's. All of them featured Bill Wenzel covers, so they must have been an important source of revenue for him. Unlike Humorama, which had covers with one accent color, these books had what appear to be full-color covers with the original art done in watercolor. We have to wonder if that is what helped inspire Wenzel and others to try the ink-wash technique at Humorama?
Speaking of the covers, this is the only one which has a spanking on it. In fact, it's the only spanking from any part of any of the books, an amazing (and disappointing) discovery. Of course we haven't searched every issue, but we've seen enough others that it's clear they won't be a major source of spanking material. Why didn't they have as many spankings as Humorama, where the "spankers" were just about to become quite common? We can only speculate that it was editorial taste, and that Wenzel managed to get this one by the editor who was otherwise unenthusiastic about OTK action.
The theme of psychiatrist spanks patient is certainly familiar to us now with many examples from Humorama but this looks to have been the first of them all. Wenzel's others are Shrink Spanks #1 and Shrink Spanks #6, while the earliest one at Humorama was George Morrice's Shrink Spanks #2 in the March 1956 Gee-Whiz, only two months after this one. So Wenzel gets the credit for originating this particular gag, at least for now. In other respects it resembles his work at Humorama: really nice clinging fabric effect on the spankee's dress, decent OTK positioning with his common error of spanking with the wrong hand. Her feet should have been lower. As to the expression, she looks startled but not unwilling, just as Morrice's spankee would later muse "I never realized this was all I needed!".