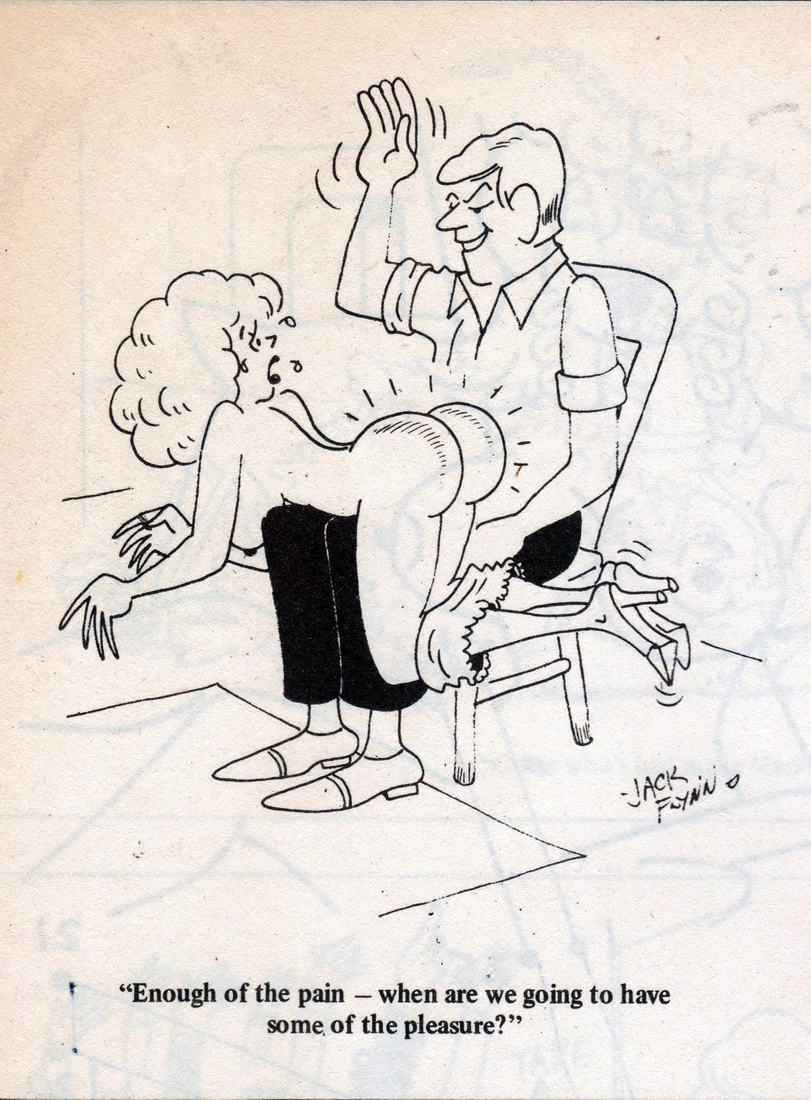 Contributed by Michael. Original source unknown but believed to be a Humorama-like magazine from the UK. Art by Jack Flynn. Posted by the Web-Ed on 09/23/2016 (click to double-size).
One thing we did not get from the Humorama spanking cartoons - and were unlikely to get anywhere during the 1950's (great era that it was in many ways) - was an OTK spanking with the spankee's bottom having been bared for the occasion. Even though the bare female bottom was occasionally displayed in cartoons by the early 50's, to combine the bare bottom with the OTK position was apparently seen by editors as too sexually suggestive (an interesting realization, by the way). The exact origin of this cartoon, with its completely nude spankee, is not known, but is probably from a magazine published in the U.K. during a later era, we would guess the 60's or 70's. Whether it appeared in any American publication is of course also unknown. It was provided to us by Michael, whom we thank once again for this and his many other contributions to CSR.
The artist, Jack Flynn, seems to us to be from the Stanley Rayon school: draw a nicely-rounded, sexy girl, and the rest of the cartoon will pretty much take care of itself. (See, e.g., Rayon's Shrink Spank #3.) There is something to recommend this approach: The spankee here has a beautifully-rounded fanny just begging to be spanked, and the spanker evidently agrees since he looks pretty happy. The spankee does not, though, and so we have an explicitly erotic situation involving sexual foreplay where the gag - apparently the spankee was promised she'd enjoy getting spanked - undercuts the eroticism. This is a somewhat unusual example of a principle that we've expressed in the past, namely, that humor and eroticism stand at opposite poles in spanking art, and what we gain in one we generally lose in the other.
Flynn does a nice job with the OTK position, and the panties being taken down past the knees is a nice touch (which again is what we did not have with the classic Humorama "spankers"), as are the stinging "effect lines" but he commits the common compositional error of spanking with the wrong hand. Overall, though, this is a nice, sexy spanking cartoon.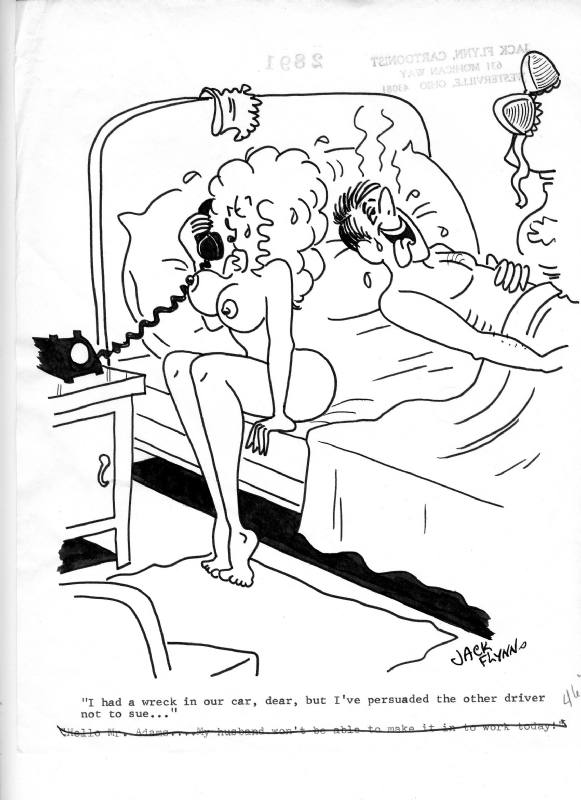 Art by Jack Flynn. Original source unknown (click to double-size).
Flynn was (or perhaps even is) a very active cartoonist. We've seen his work in a number of publications including some of the later Humorama magazines, and he is not averse to BDSM-themes. Some of these are F/M, unfortunately, so they won't be appearing in CSR, and we know of no other M/F spanking cartoons although we will be posting one with a "Behind in Jeopardy" theme.
Here's a Flynn cartoon from an unknown publication that again shows his "Draw a sexy girl and the rest will take care of itself" philosophy.