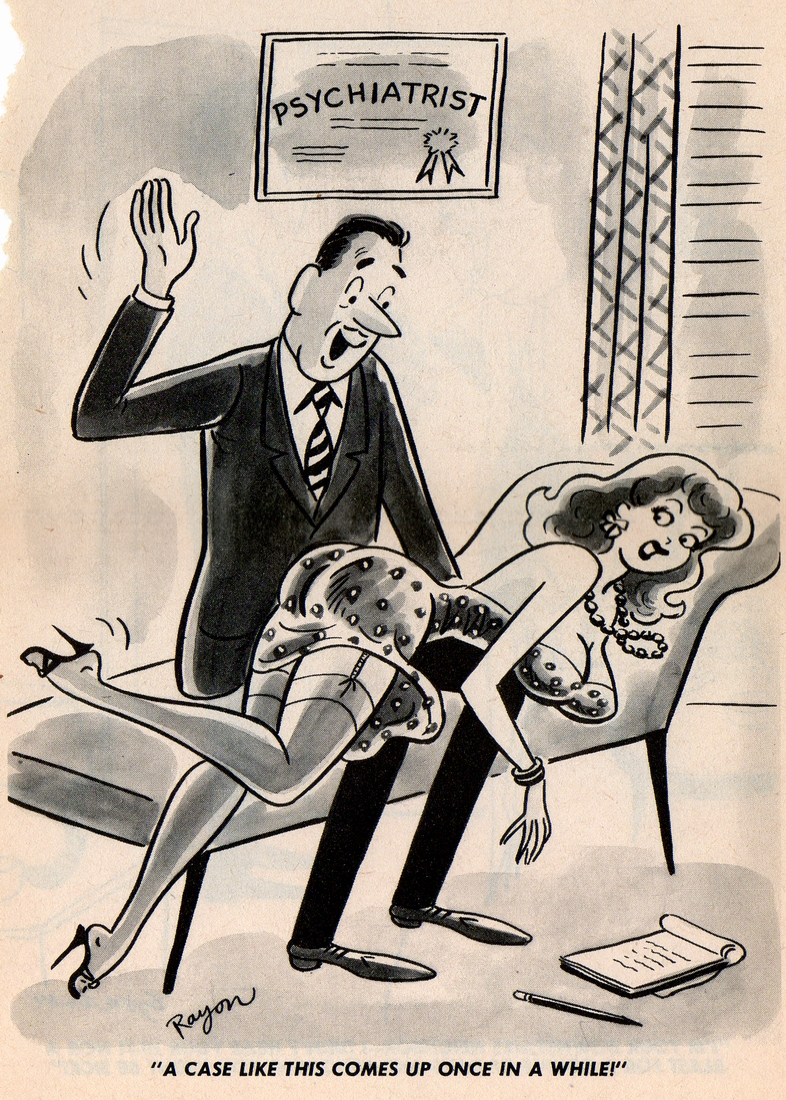 Posted by the Web-Ed on 01/07/2011.
Recently we brought you a secretary spanking cartoon by Stanly Rayon, and as we get our Humorama series rolling here we're going to return to another example of his work. As we mentioned there, Rayon's style seems to have been influenced by Frank Beaven, and you can see that here as well. The principal difference seems to be that while Beaven favors very elegant proportions for his females, Rayon gives them fuller busts and rounder behinds. That's one very shapely, soft-looking, and spankable tush!
This is the second psychiatrist-spanks-patient cartoon in the gallery (the first was by Bill Wenzel). It seems a reasonable enough gag - "A case like this comes up every once in a while," muses the psychiatrist. Way to go, Doc - another successful diagnosis! Just make sure that you apply the "therapy" good and hard where it's needed most! (For an example where the tables are turned and a female psychiatrist is on the receiving end, see this cartoon by Dan Rivera).
This is a first, also - the first of the sixty-three scans we made from the Humorama collection that Mike generously turned over to us. Mike collected these back in the 60's, but as they were torn out of the original digests, in general we do not have detailed publication data. What's more important is that Mike had a number of items we hadn't seen on the internet before, and also some duplicates of items we already had in our files but in lower-quality versions. A good-quality scan can make a lot of difference in the overall effect a cartoon has because the lines and shadings are much clearer.