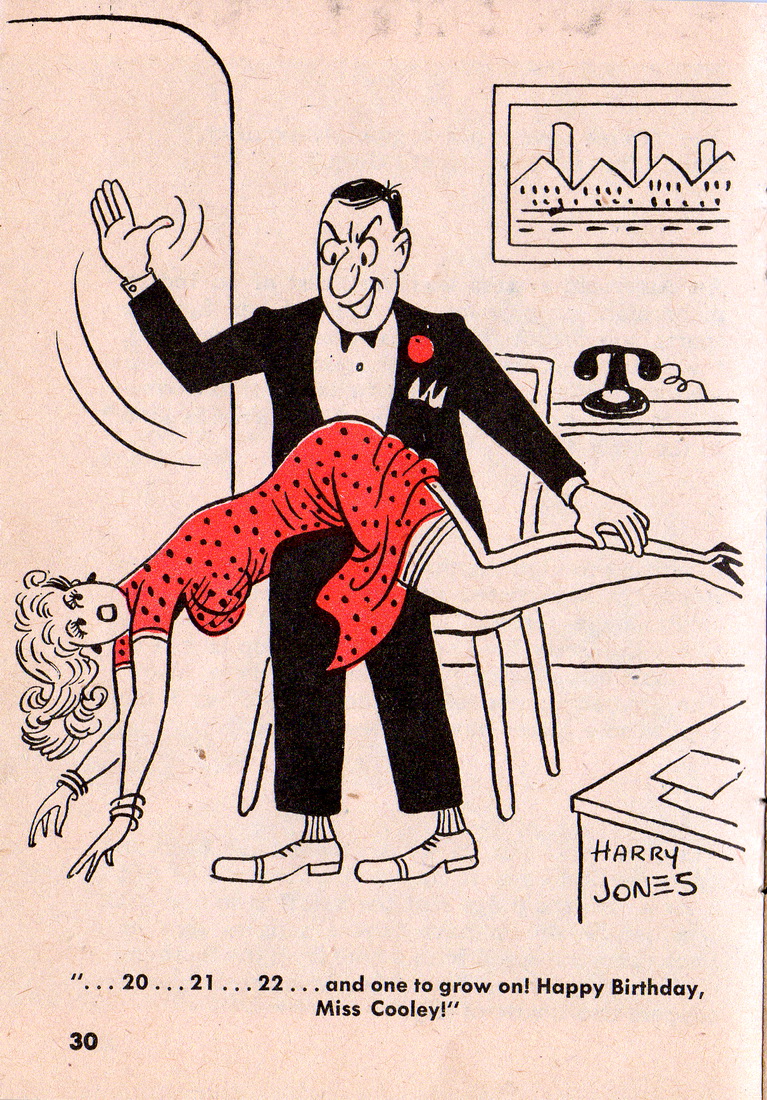 Harry Jones' secretary/birthday spanking. From TV Girls and Gags (January 1956). Notice that unlike Humorama, a single accent color (red) is available here. (With the Humorama digests, the accent color was available only on the front and rear covers).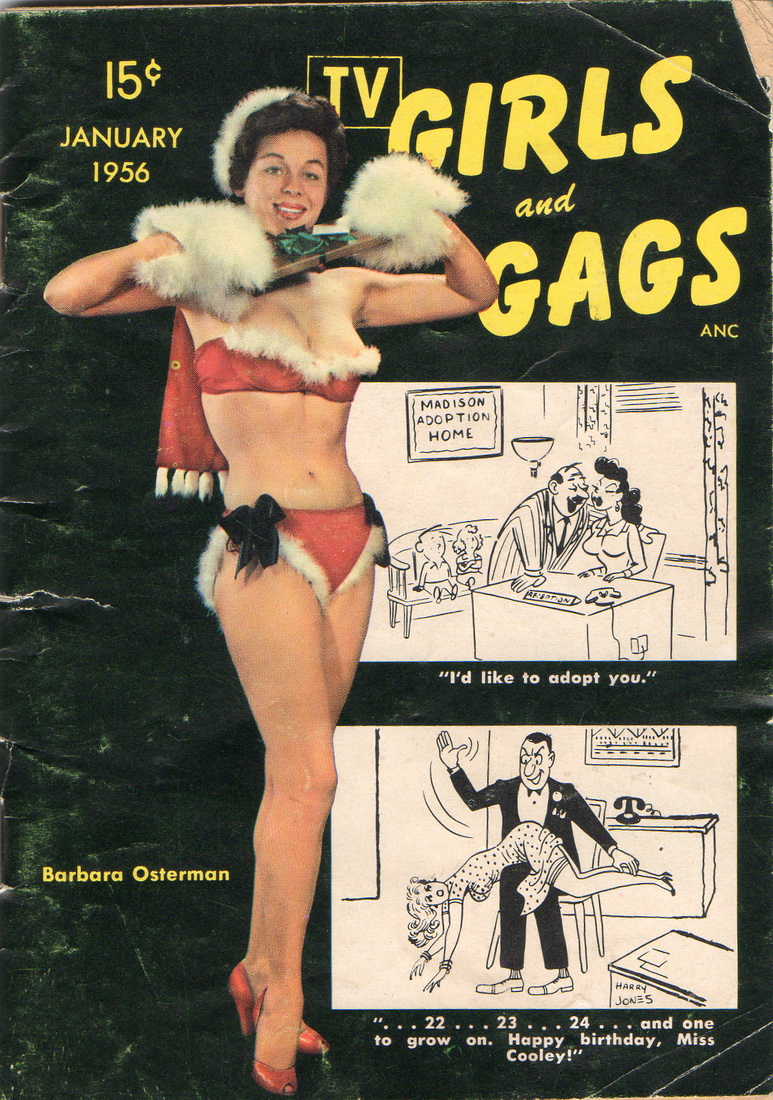 The spanking-good cover of TV Girls and Gags (January 1956). Scanned and posted by the Web-Ed on 10/21/2016 (click to double-size).
Our "Rival of Humorama" this time is TV Girls and Gags, which we introduced in the 15th entry in this series, Shrink Spank #8. This is actually the first of the two M/F spanking cartoons, dating from 1956, and the only one known at the present time that also appeared on the front cover (as the Wenzel cartoon had 6 months earlier). Coincidence? We don't think so - Humorama must have been very successful at this point and no doubt Enterprise Magazine Management, the publisher of TV Girls and Gags listed in the indicia (there were several over the years), wished to emulate that success. Not that all of Humorama's success was due to its spanking cartoons, but they surely helped. But perhaps the editors simply had no taste for the "spankers" (in contrast to Abe Goodman at Humorama, who was obviously enthusiastic about them) which would explain why they didn't try running one every issue.
As we pointed out, Harry Jones swiped the secretary spanking (and the secretary!) from Bill Wenzel. Jones was an adequate artist who made the rounds and even sold a few cartoons to Humorama, but he couldn't match Wenzel's technique or ability to devise a gag. Nor did TV Girls and Gags ever feature the ink-wash technique that did so much for Humorama in the hands of Wenzel, Dan DeCarlo, and Kirk Stiles. It did function well-enough as a somewhat lower-grade Humorama, providing us with two decent if unspectacular M/F spanking cartoons for which we are properly grateful. And while it will never be a major source of such cartoons,we'll keep searching to see if a third one is still lurking out there among the at least eight issues we have so far been unable to find.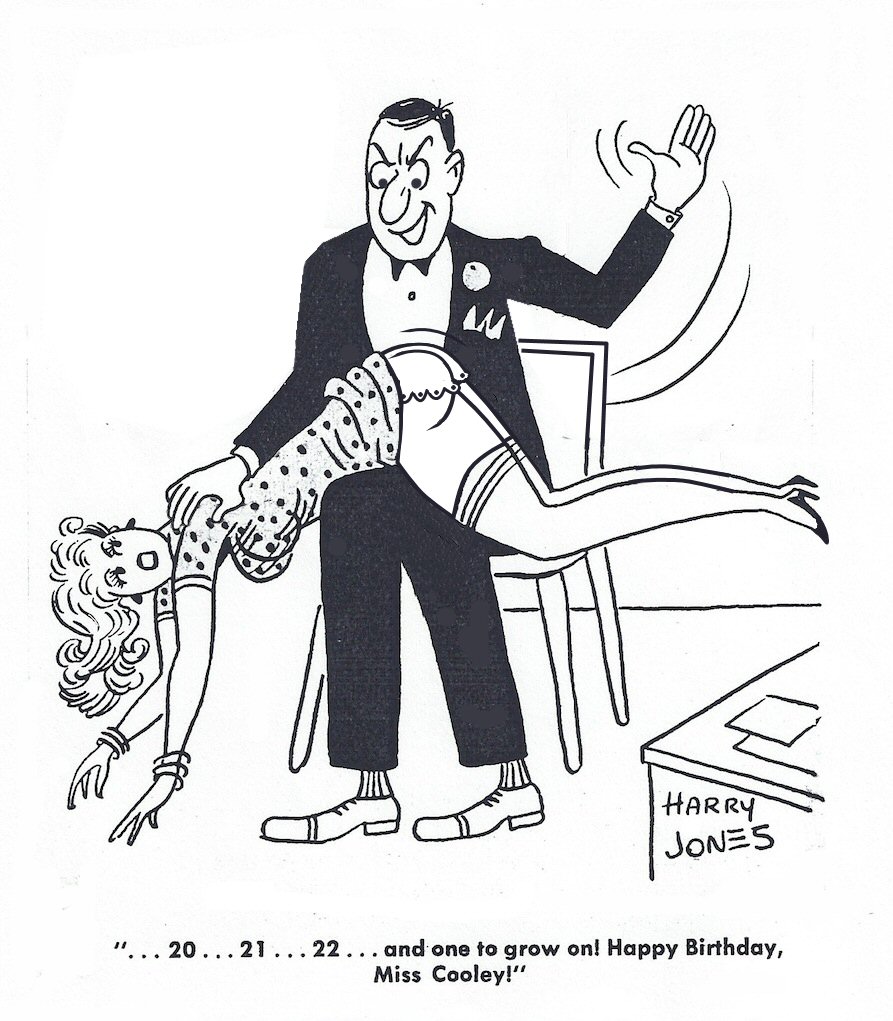 As modified by Hugob00m. Posted by the Web-Ed on 11/11/2016 (click to double-size).
CSR Resident Artist HugoB00m decided to make a couple of fixes to Jones' cartoon. First, he has the spanker now using the correct hand (his left) given the spankee's position. Second, the boss is now raising her dress, which was the common practice of most of the Humorama "Big Six" except, ironically, for Bill Wenzel, whom Jones of course copied. Thanks, B00m!