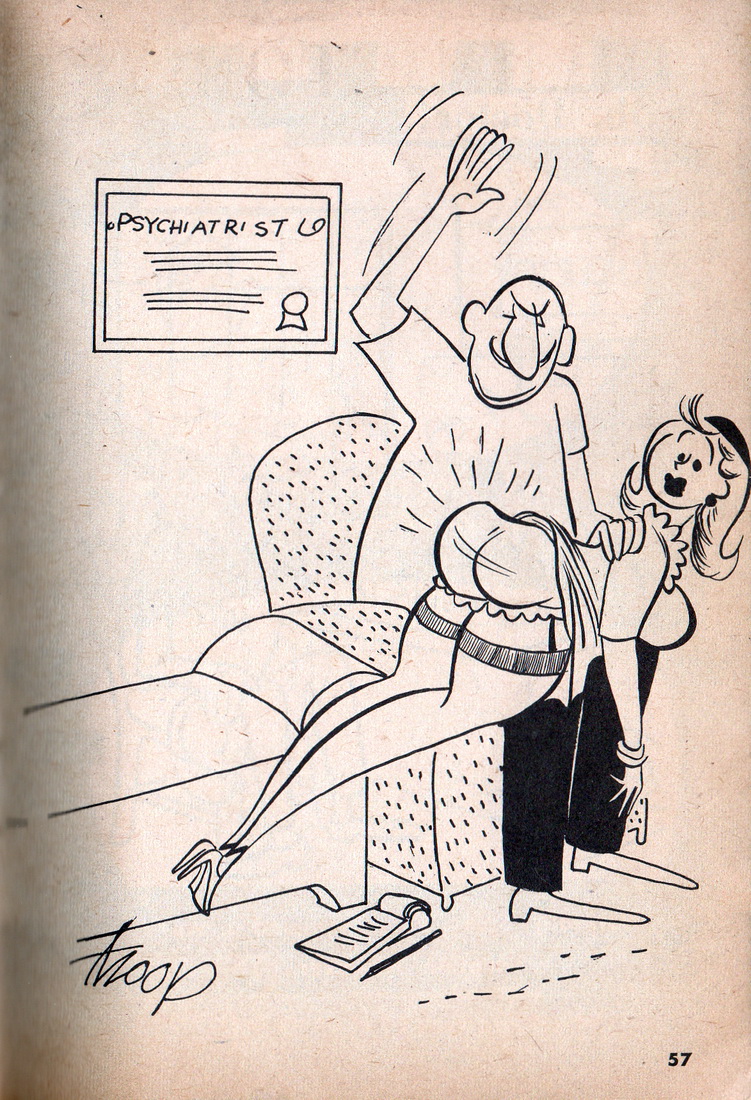 Art by George Troop. Originally published in TV Girls and Gags (January 1960). Discovered and posted by the Web-Ed on 10/07/2016 (click to double-size).
Our next example of a spanking cartoon from a Humorama rival is of a sub-genre all CSR readers are familiar with: a psychiatrist spanks his patient, or as we call it for brevity, "Shrink Spanks". The specific captions vary a bit (this cartoon doesn't even have one), but the general idea is that the spankee has nothing wrong with her a good spanking couldn't cure. We're not trained in psychiatric medicine, but it certainly seems worth a try to us! (And for a more serious discussion of the therapeutic value of corporal punishment, see our article The Benefits of Caning which describes the claims of some Russian doctors.)
The high point of this cartoon is probably the spankee's expression of dismay and disbelief, which is done pretty well. The doctor looks like he's really enjoying administering this form of therapy, and the OTK position isn't too bad. However, the spankee from the neck down is really badly drawn - her ankles and feet are tinier than anything even Kirk Stiles (a much better artist) ever imagined, while her thighs are kind of fat and her back seems to have a strange "dip" from left to right just below her waist. In comparison, Herc Ficklen did a much better job of drawing women of similar build who were still quite sexy - see e.g. his Nautical Spanking.
The artist here is George Troop, and we have the same question about him that we had about Felix Andrews in the preceding installment of this series: since he was a frequent contributor to Humorama during its "classic" period (1955-60), why didn't he do any "spankers" for editor Abe Goodman? He drew this cartoon in 1960, at which time Humorama was still publishing new spanking cartoons, for example the two from Joe Shuster.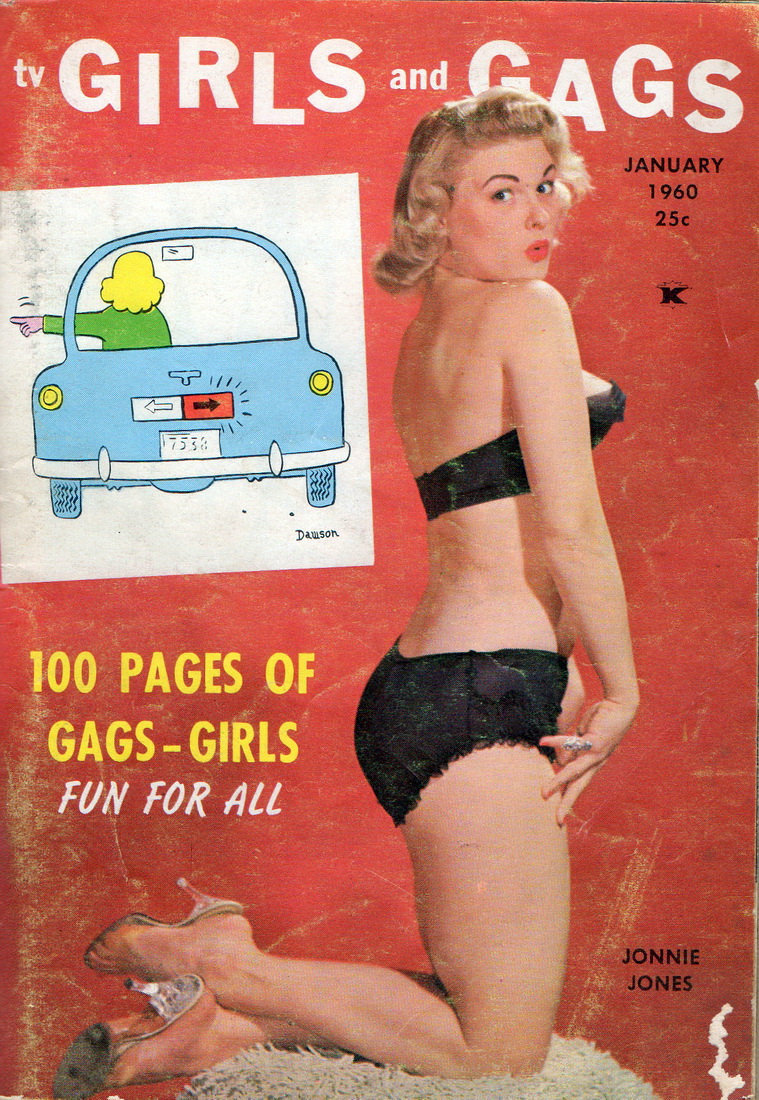 Now let's talk about our "Rival of Humorama" this time, TV Girls and Gags. Here is the cover of the January 1960 issue from which Troop's cartoon was taken. If it looks familiar, it's because we've used it as a sort of decoration near the top of the pages of this special series (see it above). We know that the first issue was published in May 1954 and that it ran for at least six years, through May 1960. It was smaller than digest-sized, perhaps to cut printing costs, although this also meant retailers needed to have the correct-sized racks to accomodate it - whether that became a problem or not as time went on we don't know. It had some of the same models and cartoonists seen in Humorama: Irish McCalla, Audi Ragona, Maria Stinger, Bill Ward (using the pseudonym "McCartney" perhaps so Abe Goodman at Humorama wouldn't realize he was selling to a rival publication), Jefferson Machamer, and Bill Wenzel among others. All that would seem to make it a likely source for spanking cartoons.
However, we have examined twenty issues and found only three spankings: this one, a Secretary Spanking by Harry Jones we'll be seeing shortly, and a father/son scene by Homer Provence of all people that we will definitely not be seeing! We can't say definitively that there aren't any more spanking cartoons in this publication, but it's clear there can't be a great undiscovered wealth of them.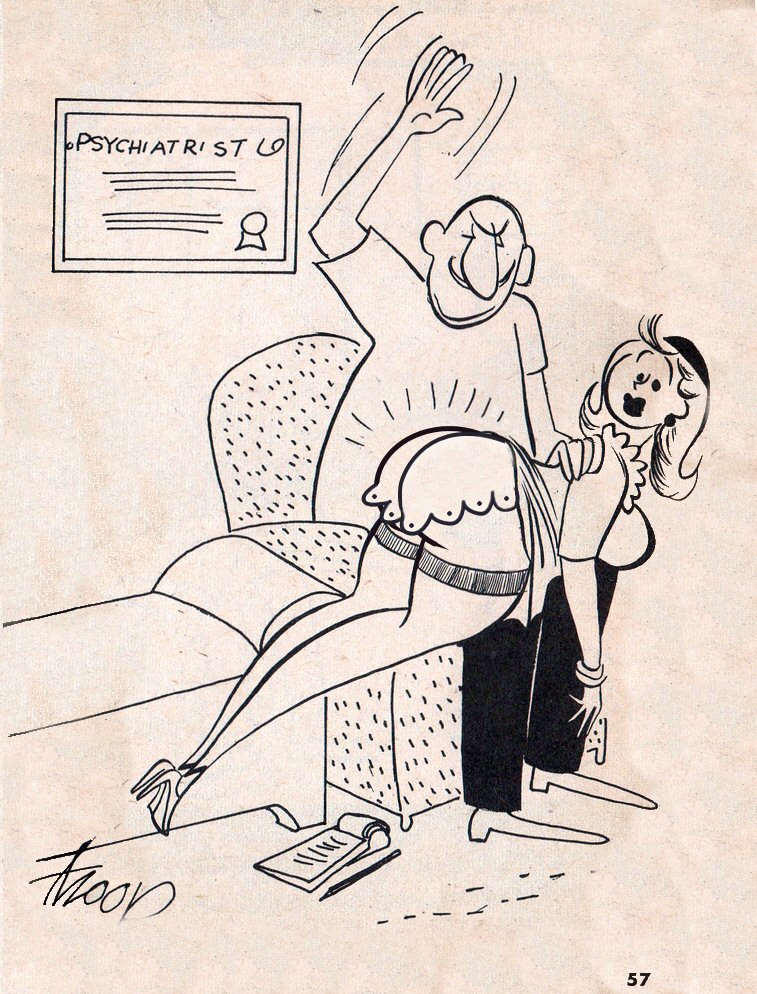 Modifed by HugoB00m. Posted by the Web-Ed on 11/11/2016 (click to increase in size).
CSR Resident Artist HugoB00m decided to fix the spankee-patient's strange-looking back and backside - thanks, B00m!