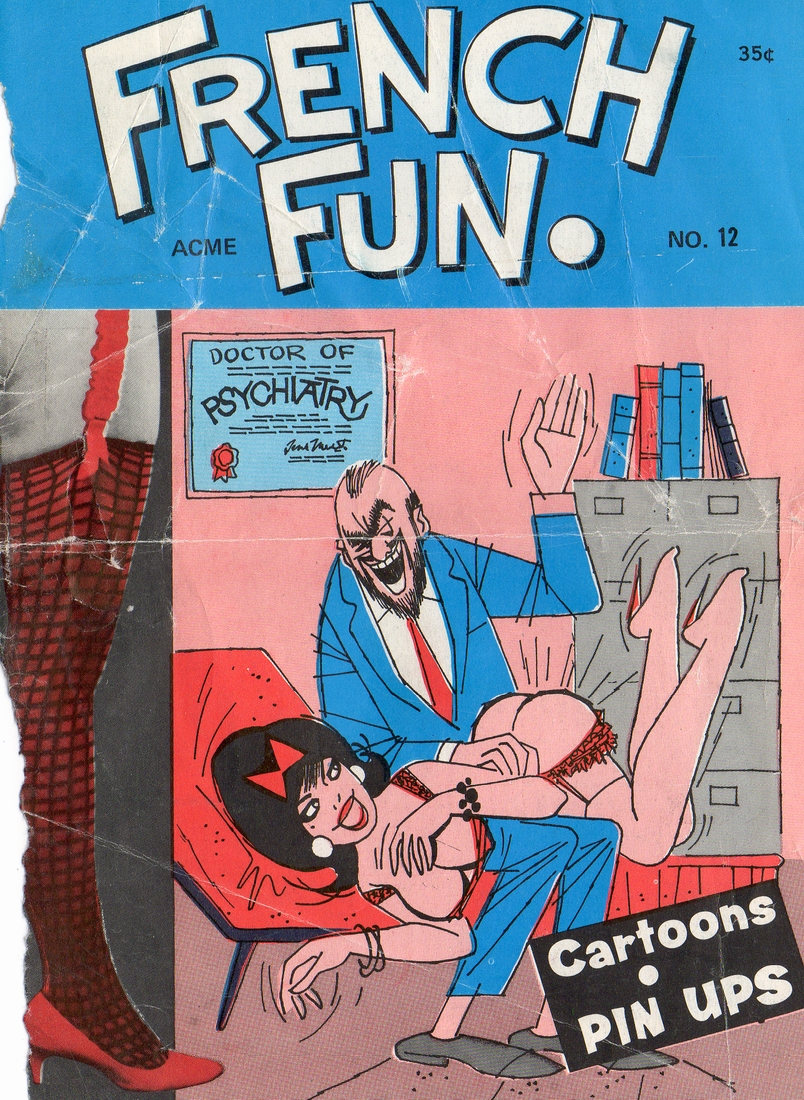 The cover of French Fun #12 (c. Spring 1970). From Mike's collection; artist unknown. Posted by the Web-Ed on 10/14/2016 (click to double-size).
Our next example of a spanking cartoon from a Humorama rival is from the same sub-genre we described last time: a psychiatrist spanks his patient, or as we call it for brevity, "Shrink Spanks". This one is on the front cover of French Fun #12, which we believe was published early in 1970. Some progress has been made since the "classic era" of Humorama (1955-60) ten years earlier: the spankee is getting it on her bare bottom!
Aside from that, then, the gag is nothing new. How is the execution by the unknown artist? The OTK position is good, and we have some nice stinging-effect lines, but the patient-spankee seems to be enjoying it quite a bit while the spanker-doctor looks almost maniacal - and he isn't wearing any socks! They really look like a couple of mod party-goers rather than a doctor and patient, and if you transplanted them into such a situation - picture Bill Wenzel's Party Kook Spanking - they'd probably look more at home. We should also note that this is a simple line-drawing - colored instead of black & white (but with only two colors and not the four of traditional comic books) - and that there is no trace of the ink wash or Ward's technique with the conte crayon here.
This is another of the many cartoons Mike entrusted to us back in 2010. As we discussed in the recent Corporal Punishment, Mike's practice was to cut out the spanking cartoons and throw the rest of magazine away, so no publication details were preserved. From an earlier issue that we obtained (see below), we estimate the date of publication as Spring of 1970.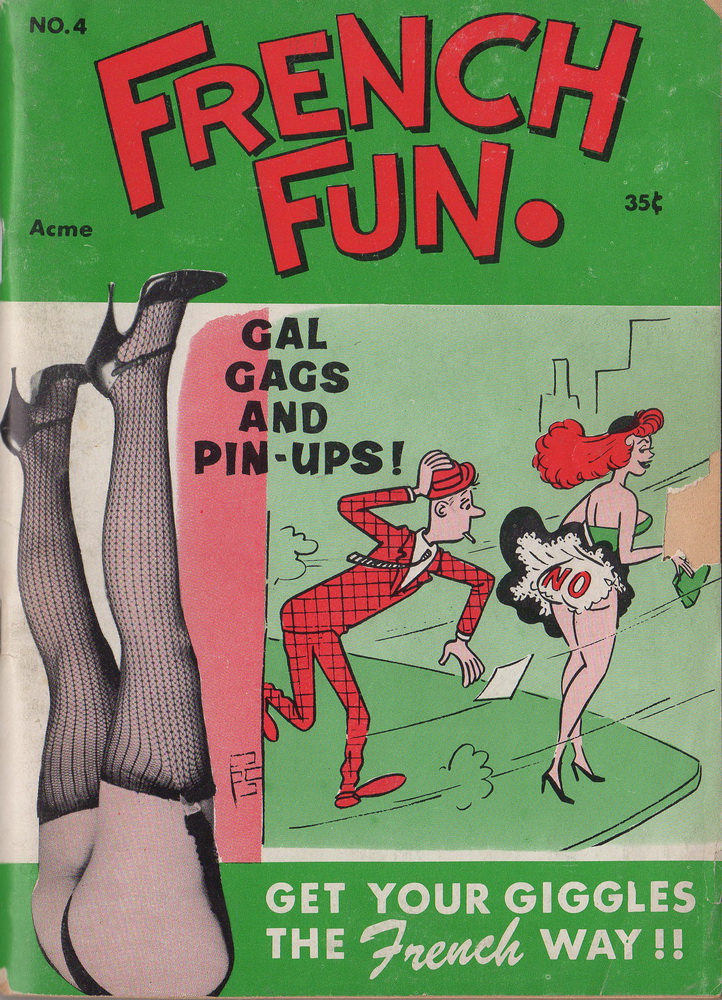 Sophisticated humor on the cover of French Fun #4 (Spring 1968).
Our "Rival of Humorama" this time is French Fun. Why "French," you ask? We'll hazard a guess: there was a tendency in adult magazines certainly by the late 1970's to attempt to give an exotic flavor to the inescapably tawdry nature of pornography. (Anyone else remember all that "Swedish Love" stuff on 8 mm film and later videotape?) Perhaps French Fun was an early and comparatively mild example of this phenomenon.
Here is the cover of the fourth issue (Spring 1968), the only one we have been able to obtain. It appears to have been a quarterly, somewhat unusual for a magazine in digest format (the Humorama digests were bi-monthly, while the full-sized magazines were generally quarterly). It had some cartoonists familiar from Humorama, for example Jack O'Brien and Bill Wenzel. We may assume that issue #12 had no spanking cartoons other than the one on the cover (else Mike would have cut it out, too), and certainly this one didn't, which means that there are at least ten other issues that might have had spanking cartoons. Did they?
The spanking's placement on the cover suggests that the editor, whoever he was, may have guessed from the many spanking cartoons on the covers of Humorama publications that they were a strong inducement to a certain segment of the buying public (people like CSR readers!). But was the one in #12 the first time he tried it, possibly when sales were down? We simply don't know at the present time, although we'll hazard a guess that the number of undiscovered spankings in French Fun is low. Times were changing by the late 60's, and not really for the better: cartoons were becoming more explicit but not better-drawn or wittier, a subject that perhaps might be explored another day.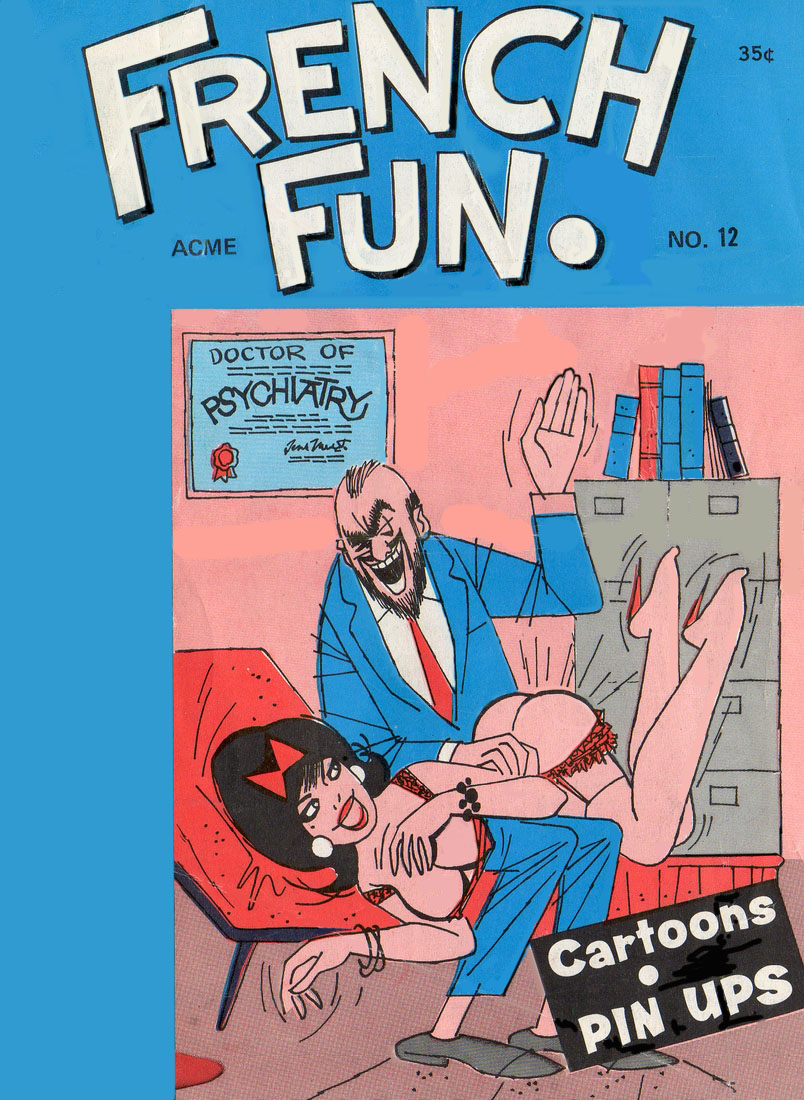 The cover of French Fun #12 as fixed up by CSR Resident Artist Dan Rivera. Posted by the Web-Ed on 11/11/2016 (click to double-size).
The cover was in somewhat ragged condition after so many years, so CSR Resident Artist Dan Rivera decided to fix it up for us - a "decided" improvement. Thanks, Dan!