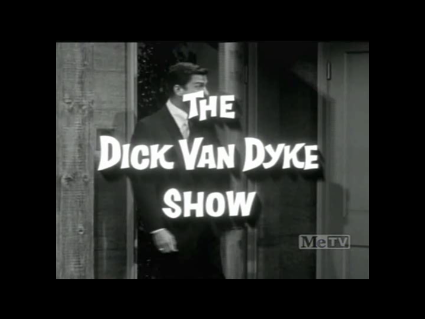 The classic Dick Van Dyke show.
There seem to be more cable channels running TV shows from the 60's and 70's than ever before, and of course a lot of these shows are available on the internet as well. It's getting depressing for us to think about just how long ago shows like I Spy and Star Trek were actually on the air for their first and second network runs, but anyway, we were there. And those of us spankos who were there naturally fantasized about seeing the actresses spanked on camera, especially those whose characters deserved it.
In most cases these fantasies were never realized, for example Barbara Eden in I Dream of Jeannie, who was our own favorite candidate for a spanking because the character of Jeannie was willful and disobedient and because of Eden's great beauty, never got a true spanking on the show. (Jeannie does get a swat with a clipboard in a silly slapstick scene, while Eden received an incredibly awkward and unsatisfactory spanking in Rawhide.) For many others, Mary Tyler Moore, whom we mentioned in the context of a Homer Provence spanking cartoon, and who co-starred in the first Dick Van Dyke show (there were three, not counting Diagnosis Murder), was the number one choice of spankee. And as it happens, there was one and only one actual spanking scene involving Moore which everyone seems to have forgotten - except us.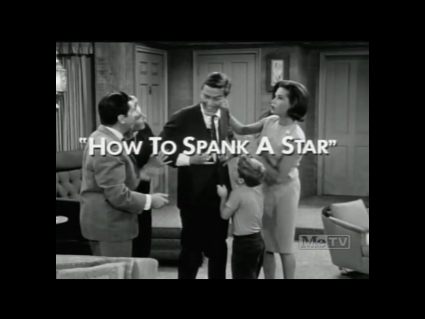 "How to Spank a Star" - oh, if only it had come to pass! Original air date March 11, 1964.
Naturally we're going to digress for a moment before presenting that spanking. There had been an earlier episode of The Dick Van Dyke Show entitled "How to Spank a Star" which certainly seemed promising, as Rob (Van Dyke) jokingly promises to spank a difficult star named Paula Marshall (Lola Albright) who's been walking all over him if she acts up again. This was season 3, episode 24, originally airing on March 11, 1964. Although there was no actual spanking, the episode's title and the mention of the possibility that Rob might spank Paula was certainly titillating. Below we present the scene where Laura's firmness causes their son Ritchie to behave himself, and Rob realizes he needs to man up and take an equally firm line with Paula.