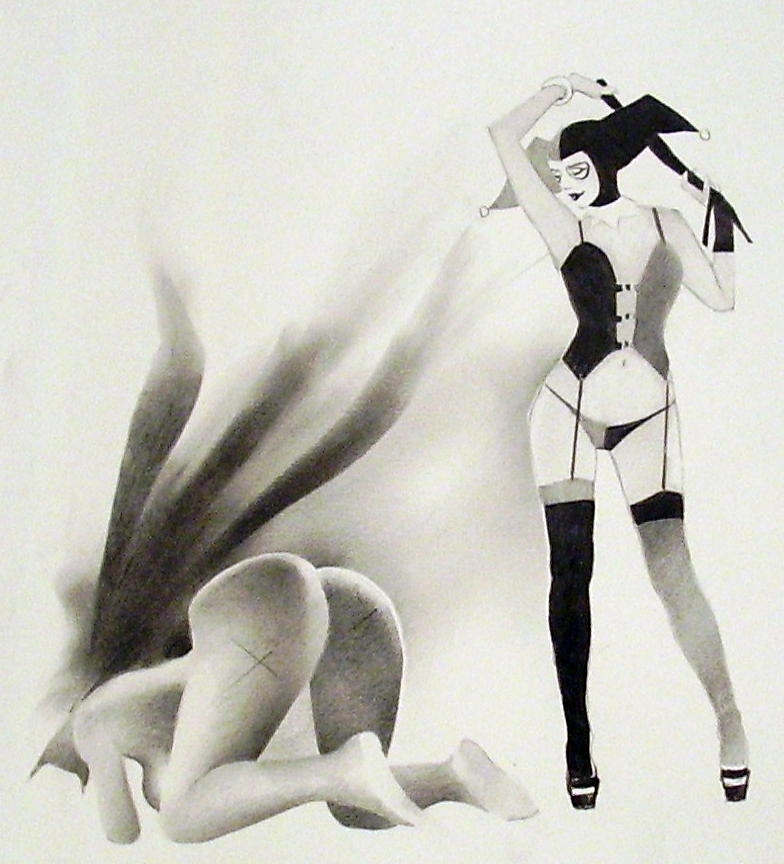 Harley Quinn takes the whip to Batgirl's bottom. Art by Shelton Bryant. Characters are © DC Comics Inc. Posted by the Web-Ed on 09/21/2012 (click to increase in size).
The Harley/Batgirl pairing seems irrestible to spanking artists, even though as we've pointed out elsewhere they're both so submissive it's hard for us to imagine either one in the dominant role. Shelton Bryant, who did the Catwoman/Poison Ivy spanking we posted a few weeks ago, is the artist this time, and he does have a unique and interesting take on these characters.
First, his pencils look almost like watercolors somehow. Second, his figures and even his costumes are highly stylized rather than drawn in typical "comic-book" form - notice Batgirl's costume where her cowl and cape are more suggested than depicted literally, while Harley has shed her outer clothes to reveal a corset and mini-panties that resemble her outer wear in their half-and-half color patterns. Third, he knows how to draw a bent-over behind, which is a great help in a spanking piece.
As to the situation, this is obviously not a case of a villainess capturing the heroine - Batgirl is very much into this scene as Harley whips her butt good! And speaking of that whip - while whips and martinettes are our least-favorite implements, this one does suit the atmosphere created by the fetishistic wardrobe on display. Overall, a superior effort by Bryant, although we'd certainly like to see him try a M/F scene some time.