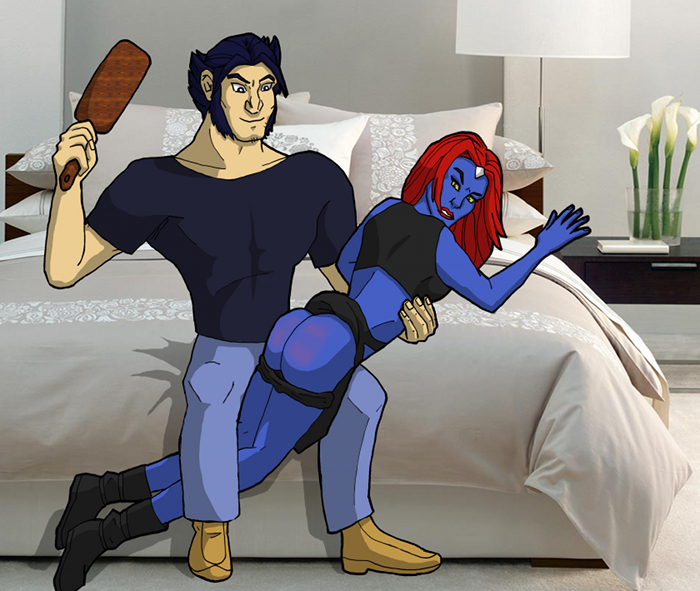 Art by Feyd Rautha. Characters © Marvel Characters Inc. Posted by the Web-Ed on 06/07/2013.
Feyd Rautha did this one of Wolverine spanking a very slender-looking Mystique with a paddle. He's got a good leg-lock on her to keep her from going anywhere, and the OTK positioning is fair, although as we explain in Five Common Paddling Mistakes long paddles don't work at all well in this position. He also put some effort into making it look like Wolverine is seated on the bed which is part of the background picture he used.
We discussed Mystique last time, so let's say a word or two about Wolverine for those who never followed the X-Men too closely. Wolverine was introduced in 1974 as one of the few Canadian super-heroes. A year later, the decision was made at Marvel to revive the X-Men, whose book had gone reprint, as an international team with Wolverine as one of the new members. He didn't become really popular until his fellow Canadian John Byrne took over the pencilling chores on the book. Perhaps it was Byrne's championing of the character, or perhaps it was that a decreasingly literate readership was eager for a new generation of pathologically violent characters in movies and comic books, but whatever it was, Wolverine suddenly became the most popular X-Man of the era.
Wolverine as he appearned in X-Men #133 (May 1980). Art by John Byrne and Terry Austin. © Marvel Characters Inc.
One thing you have to say about Wolverine: he's definitely masculine, which makes him an obvious choice for the role of spanker. We've seen him play that part before when he spanked Rogue (once) and Storm (twice).