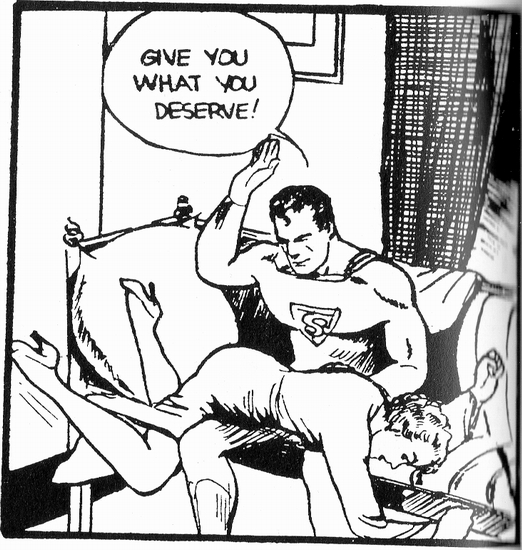 From the Web-Ed's collection (sorry for the slight blurring at the right edge), art probably by Paul Cassidy, Wayne Boring, and Joe Schuster. © DC Comics Inc. Posted by the Web-Ed on 07/22/2011.
Recently during the current Super-Spanking Summer of 2011 we've been lamenting the fact that Superman never spanked an adult female in any of the "Superman Family" of comic books edited by Mort Weisinger. But as we've seen before and will see again now, the Superman newspaper strips were another matter. (Three spankings from the strip have already been posted, and we'll add a special index for them all at the conclusion of this mini-series).
At left is the first of the spankings from the Superman daily strip. It was part of Episode 8, Royal Deathplot, which ran from July 24 - November 11, 1939. The script is by Jerry Siegel; the art is probably Paul Cassidy and Wayne Boring with some inking by Joe Schuster. According to Cassidy, Schuster's eyesight was already failing and he mainly just inked faces. Boring later worked on various "Superman Family" titles and hated Weisinger (so did a lot of other people), but that's a story for another day.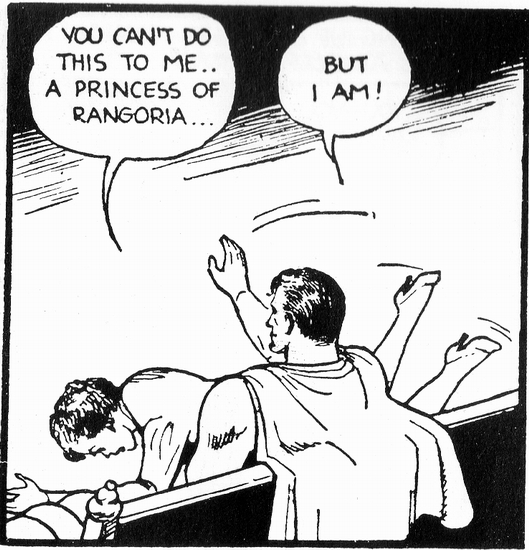 © DC Comics Inc.
The panel above has been seen around the web before, but this one is less well known. It's from the next day's strip, and shows the continuation of the spanking from another angle. Now let's put the spanking in context.