Our story is called "Holiday Heart-Throb" and the introduction gives a pretty good idea of the type of stories found in the genre:
"I met Johnny Harman on a skiing trip to Vermont. He was handsome, kind and gentle. He was everything a girl could want, and I fell desperately in love with him! And then I learned that, to him, I was just one more Holiday Heart-Throb."
Obviously a strong degree of reader identification with the protagonist was expected and encouraged, a point to which we'll return later. For now, let's see our story get off to a good start with the meeting of Johnny Harman and our heroine-spankee, Julie Andrews. (Note: at this time, the Julie Andrews (the star of stage and screen) was still only 17 years old, so the character here could not have been named after her. It was a little more than a year later when Andrews made her Broadway debut in The Boy Friend at the ripe old age of 18!).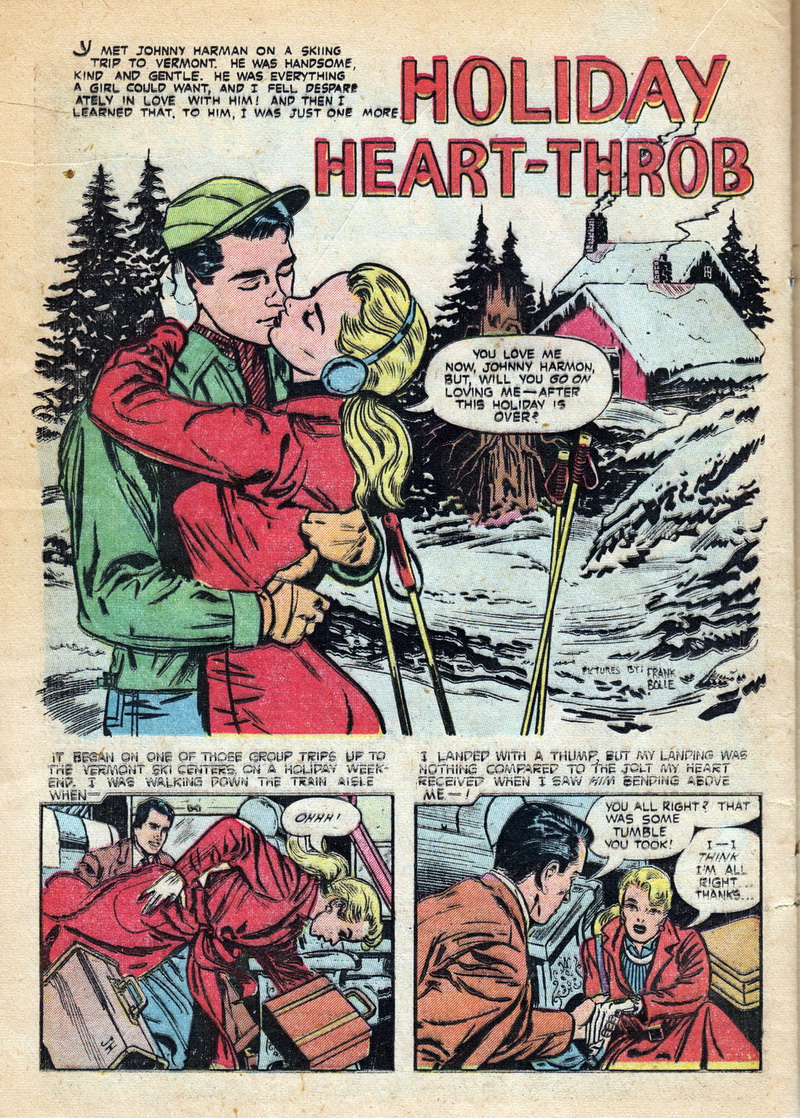 The splash page of Holiday Heart-Throb. Art by Frank Bolle; writer unknown. From the fabulous collection of Jim Vadeboncoeur, Jr. (JVJ).
Next page: Julie's romantic rival, the "girl-wolf" Betty Staley, appears and undercuts Julie's confidence...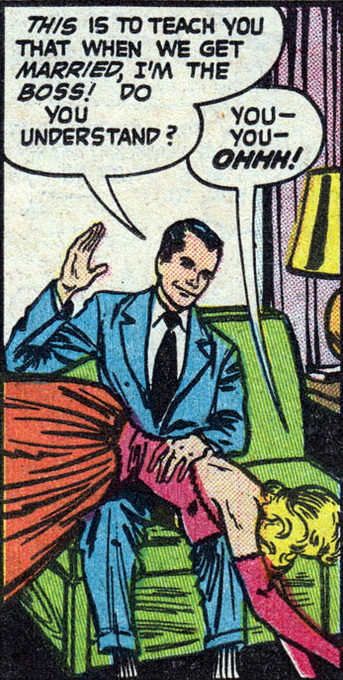 The spanking panel (click to increase in size). Posted by Web-Ed on 2/20/2015.
We drew attention earlier to the fact that stories like this one invited the reader to identify with the heroine. This becomes quite interesting when, as is most often the case and as we have here, the heroine instead of someone else gets spanked, for if the story is to have a happy ending, the spanking must be presented in a positive way. It's not particularly emphasized in the art, but the spanking is pivotal in this story because it's what makes Julie realize that Johnny loves her - and what could be a more romantic spanking than that?
The writer is as usual unknown, but the artist is Frank Bolle, whom we encountered twice last year: in Soldiers of Fortune #2 (1951) and then in Lovers Lane #29 (1952). This spanking, then, is the third in three years for Bolle, and it makes us wonder: could Bolle have written these stories himself as well as drawn them? Or could he have been paired with the same writer each time, a man who favored spankings? It certainly seems unlikely that three different writers were involved. And yet, if Bolle were the writer and further was into spanking, why would he have shortchanged the spanking itself by confining it to one skinny half-width panel? By "half-width" we mean 1/12 of a page, or half of a 1/6 page panel, the smallest size used for general purposes.
Bolle (born 1924) is the son of artist parents and showed early drawing ability. His long career in comics does not include any writing that we could find, so for the moment we're going to guess that he was indeed paired with a writer who liked to put spanking into his stories (a man after our own heart, to be sure!). This is not a firm conclusion, however: Bolle was involved with so many different newspaper strips that it's possible he had a hand in writing a few of them. Amazingly, Bolle is still active to this day (2015 - 62 years later!), drawing Apartment 3-G for King Features Syndicate since 1999. We'd love to ask him about these spankings, although we're not sure exactly how we would broach the subject and we couldn't expect him to remember after more than sixty years. For now, on behalf of spankos everywhere, we'll simply say "Thank you" to this man for providing us with three (at least) good spanking scenes!