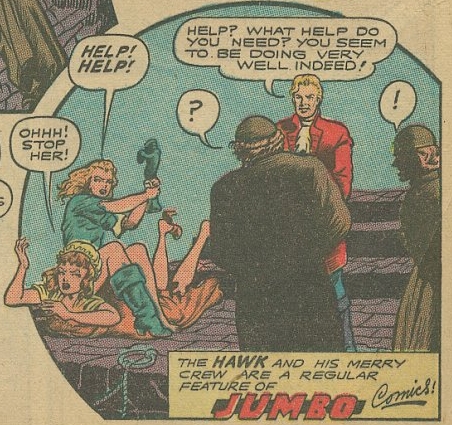 from Jumbo Comics #82 (December 1945). Published by Fiction House. Posted by the Web-Ed on 01/07/2011.
Sheena was the headline act of Jumbo Comics, but the sailing adventure series Hawk may have been better-drawn. There were abundant opportunities for spankings, but they were all missed - until this very odd F/F panel appeared out of nowhere in Jumbo Comics #82 (December 1945). Nothing seems to lead up to the spanking, which isn't very well done as regards positioning, and in fact we were so unsure this actually was a spanking we declined to post it until CSR readers had a chance to vote on the question (see Is This A Spanking? in the Comic-Book and Superhero Spanking Forum for the vote and some commentary). By a 67% to 33% margin, readers decided in the affirmative, so here it is.
We can only think that the artist decided upon the strange position because he didn't think one woman could overpower another to the extent of being able to take her OTK the way a man could (a questionable assumption, by the way). Perhaps this is what led him to compose the figures with the spanker sitting atop the spankee, but how he hit upon the idea of the spanker using her own boot as a spanking implement is anyone's guess.