<!- IMAGE ->
<!- IMAGE ->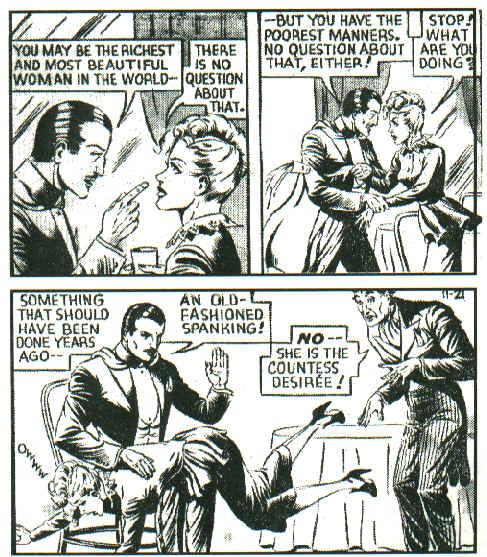 © King Features Syndicate, Inc. Posted by the Web-Ed on 10/12/2008. [07/14/2017 Update: Sweetspot discovered that the year this appeared was 1947, so the full date is November 21, 1947, or only two days before Superman spanked Olivia Hill! What a great time to be a comics fan it was!]
Mandrake the Magician was a true archetype: almost every magician who followed in the comics medium was modeled on him to a considerable degree. You could have held a convention just with the ones created by Fred Guardineer, guys like Tor, Marvelo, and Yarko the Great, who clearly showed the influence of Mandrake in their dress and speech and who are pretty much forgotten today. Another one, Zatara, was a little better known - he debuted along with Superman in Action Comics #1 (June 1938), and hung around on the periphery of the DC Universe for almost fifty years before being killed off in Swamp Thing #50 (July 1986) of all places. All of these necromancers except Mandrake himself had pretty much disappeared in a puff of smoke by the end of the 40's due to changing fashions (noted in our commentaries on the rise of western and romance comics).
Mandrake was created by Lee Falk in 1924 but did not appear in print until 1934, after which he was drawn for many years by Phil Davis. Here we find him giving a spanking remarkably similar to the one the Phantom (who was also created by Falk) administered to Queen Pera (see it here ). We note again the common theme of a haughty female in a lofty social position being taken down a peg by the strong masculine hero, a theme we must admit we find very satisfying indeed! (Any real-life Queens or Countesses reading this who think they could benefit from similar treatment are encouraged to come visit us).
Zatara the Magician on the cover of an early issue of Action Comics. Zatara's star was soon to be eclipsed by the fellow on the left with the big red "S" on his chest.
<!- IMAGE ->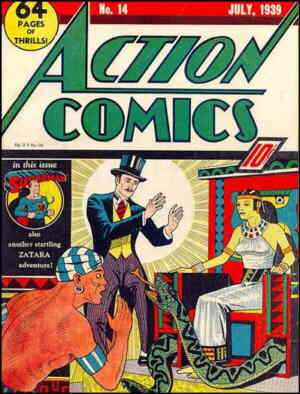 © DC Comics Inc. Posted by the Web-Ed on 10/12/2008.
Zatanna, who was a female version of Zatara (his daughter, in fact) still showed traces of Mandrake's influence. Zatanna always seemed eminently spankable to us (of course, so did practically every other super-heroine in comics), especially as drawn on this cover by Gray Morrow with her coattails conveniently flipped up out of the way. Hmm - that gives us an idea. Watch these pages in upcoming weeks to see what it is (as if you couldn't guess) ...
<!- IMAGE ->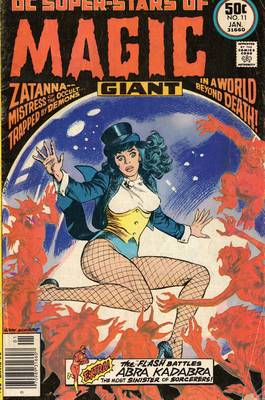 © DC Comics Inc.