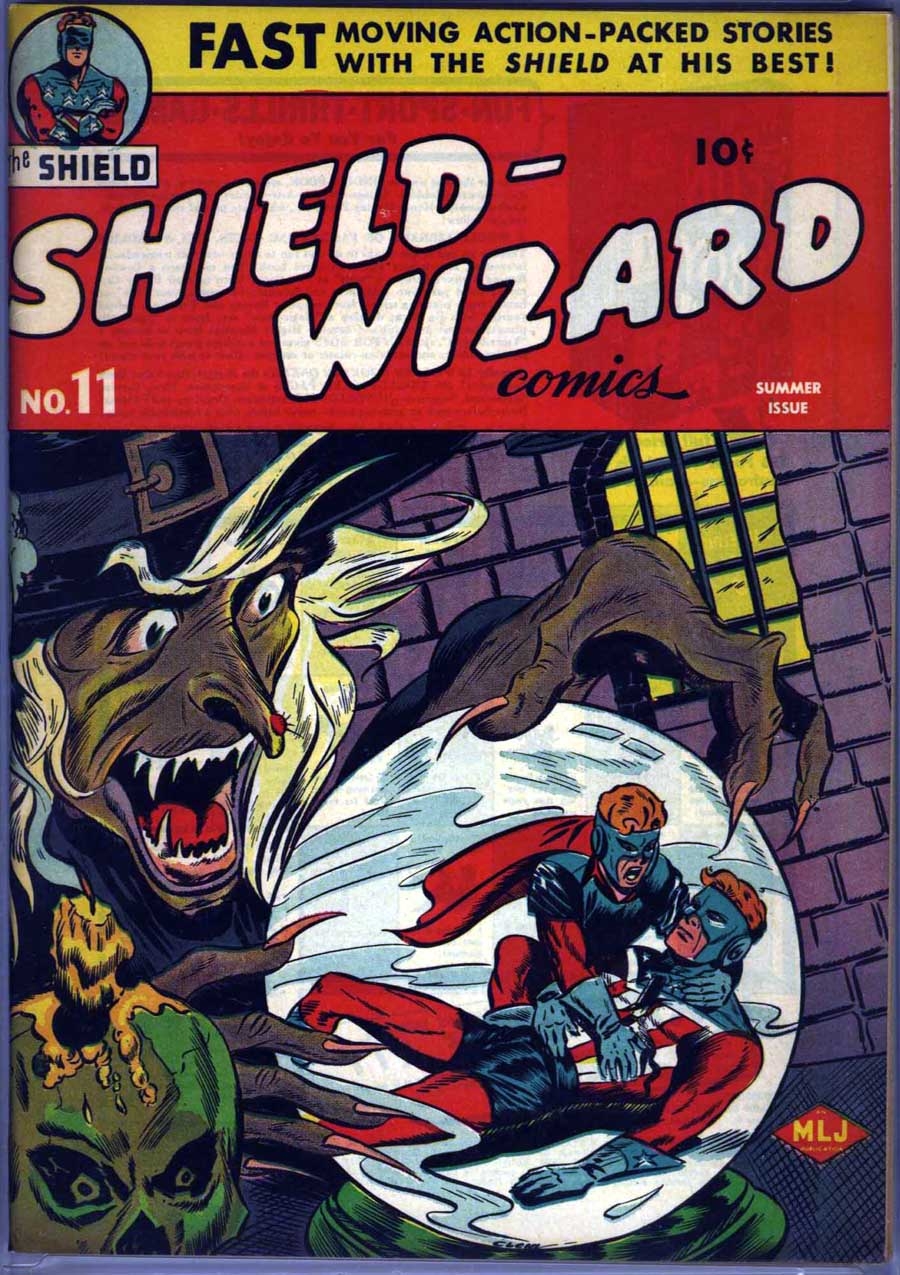 Cover of Shield-Wizard Comics #11 (Summer 1943). Art by Irv Novick. Published by MLJ (Archie) and posted by the Web-Ed on 03/04/2011.
On our Great Golden Age Comic Spanking Search through the Archie (MLJ) line, we found a total of nine M/F spankings, of which this is the strangest. It's not often that we run into puppet spankings - in fact, the closest we had ever come here at CSR prior to encountering this scene was Lois Lane flogging a Superman puppet, which we thought was as close as we'd ever want to get. However, this one turned out to be very worthwhile, as we'll see here for the first time anywhere on the Web.
Before we get to the story, we need to say a little more about its hero, The Shield. He was Archie's foremost super-hero, appearing in both PEP Comics and Shield-Wizard Comics. Of course there were a great many patriotic-themed heroes, both male and female, of whom probably the most famous is Simon & Kirby's Captain America (see below).
Now, The Shield and his sidekick Dusty look a whole lot like Captain America and his sidekick Bucky (note especially the resemblance of CA's original shield to The Shield's shield), but in fact The Shield was published first! We won't go into a detailed comparison of the characters, but we should at least ask how the two heroes stack up spanking-wise (the first comparative yardstick that comes to mind, naturally).
The Shield had three known spankings, of which two were M/M (yeesh!) and one M/F which we see here (the interested reader may search The Comics Spanking Data Base for details). As for CA, we suspect there was one spanking (in Captain America Comics #59), but we have not been able to confirm it because of the difficulty in obtaining Marvel Golden Age books, and it would have been M/M anyway.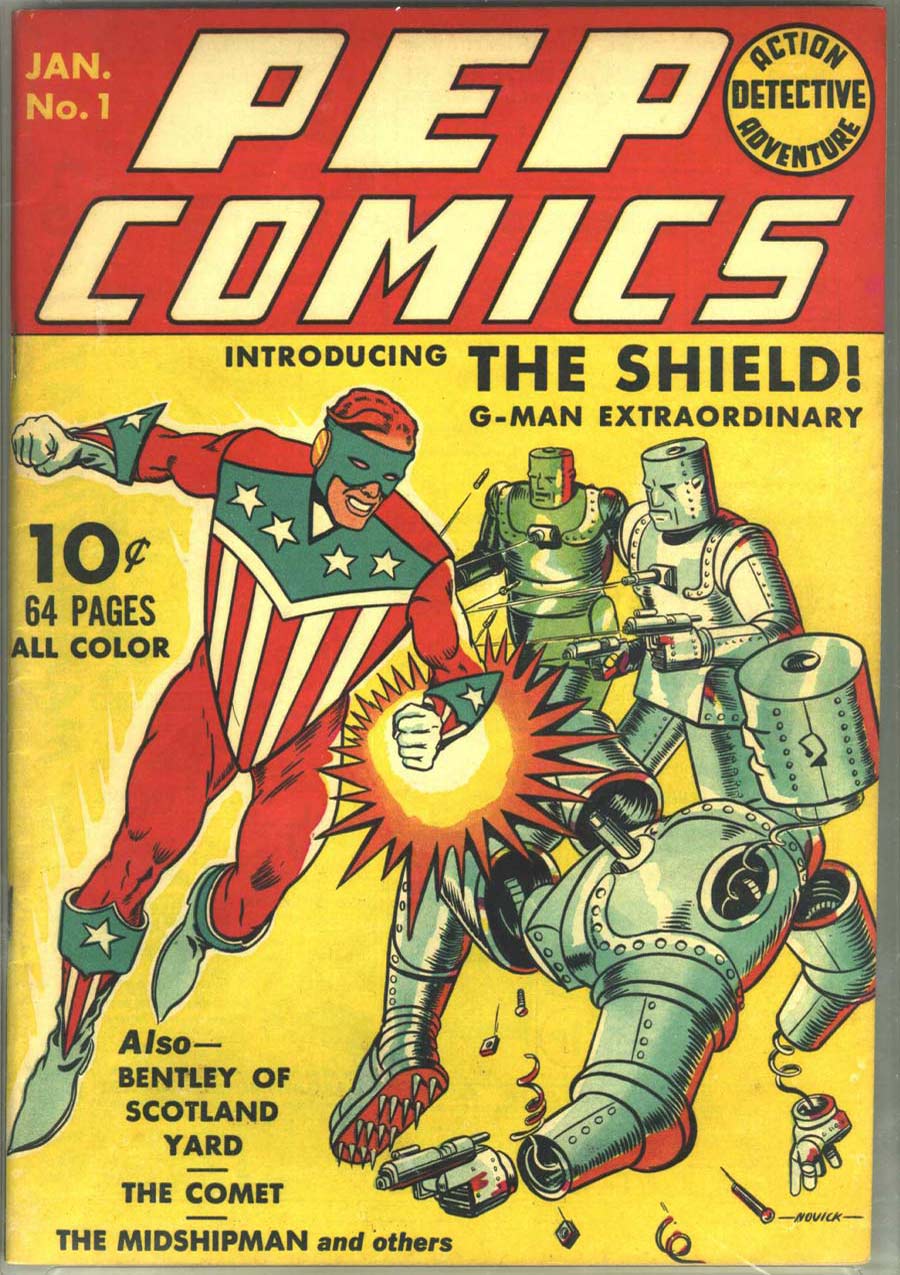 The cover of PEP Comics #1 (January 1940), art by Irv Novick. Published by MLJ (Archie Publications). (Click to enlarge).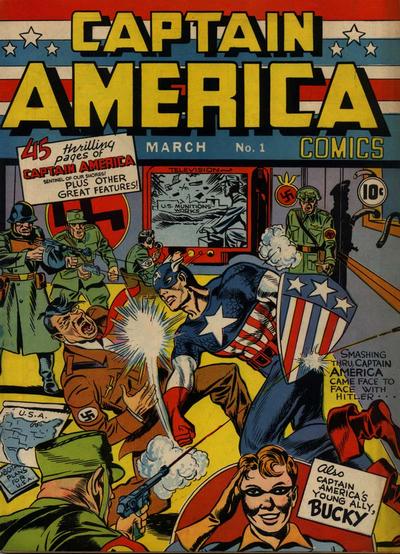 The cover of Captain America Comics #1 (March 1941), art by Jack Kirby (and ?). © Marvel Comics Inc. (Timely, Atlas). (Click to enlarge).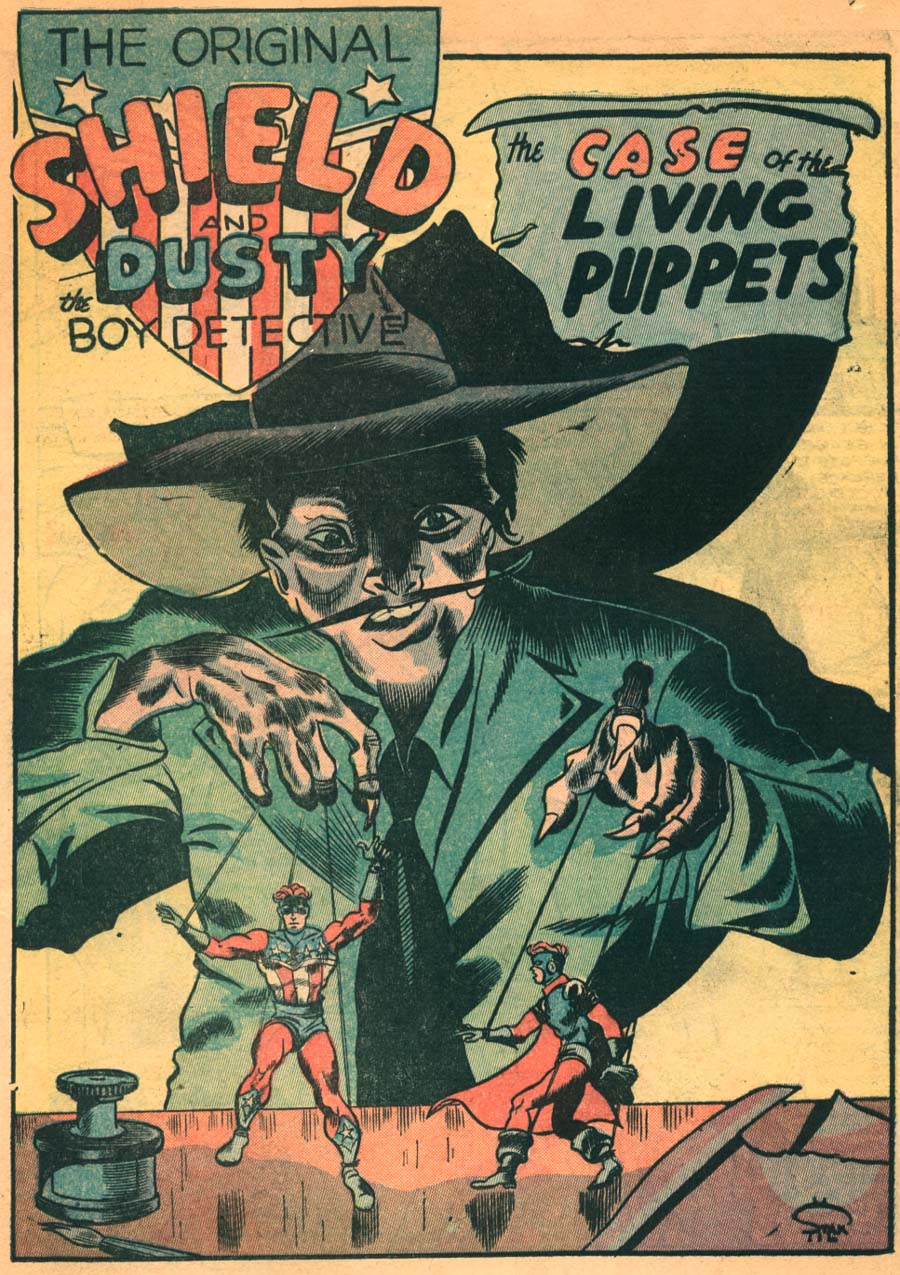 Our story is titled "The Case of the Living Puppets" and the symbolism seen here on the splash page would seem to imply that it's The Shield and Dusty who are manipulated by some villain, but in fact this seems to be an Eisner-influenced design intended to set mood. The actual storyline involves a typical comic-book mad genius type who creates living puppets responsive to his will.
The splash page bears the signature "Stan Til" but this is probably a psuedonym. One possibility is that the artist is George (a/k/a Clem) Harrison. The style reminds us of Gene Colan, but Colan would only have been 16 years old at the time and didn't begin his career (as far as we know) until he got out of the Army in 1944.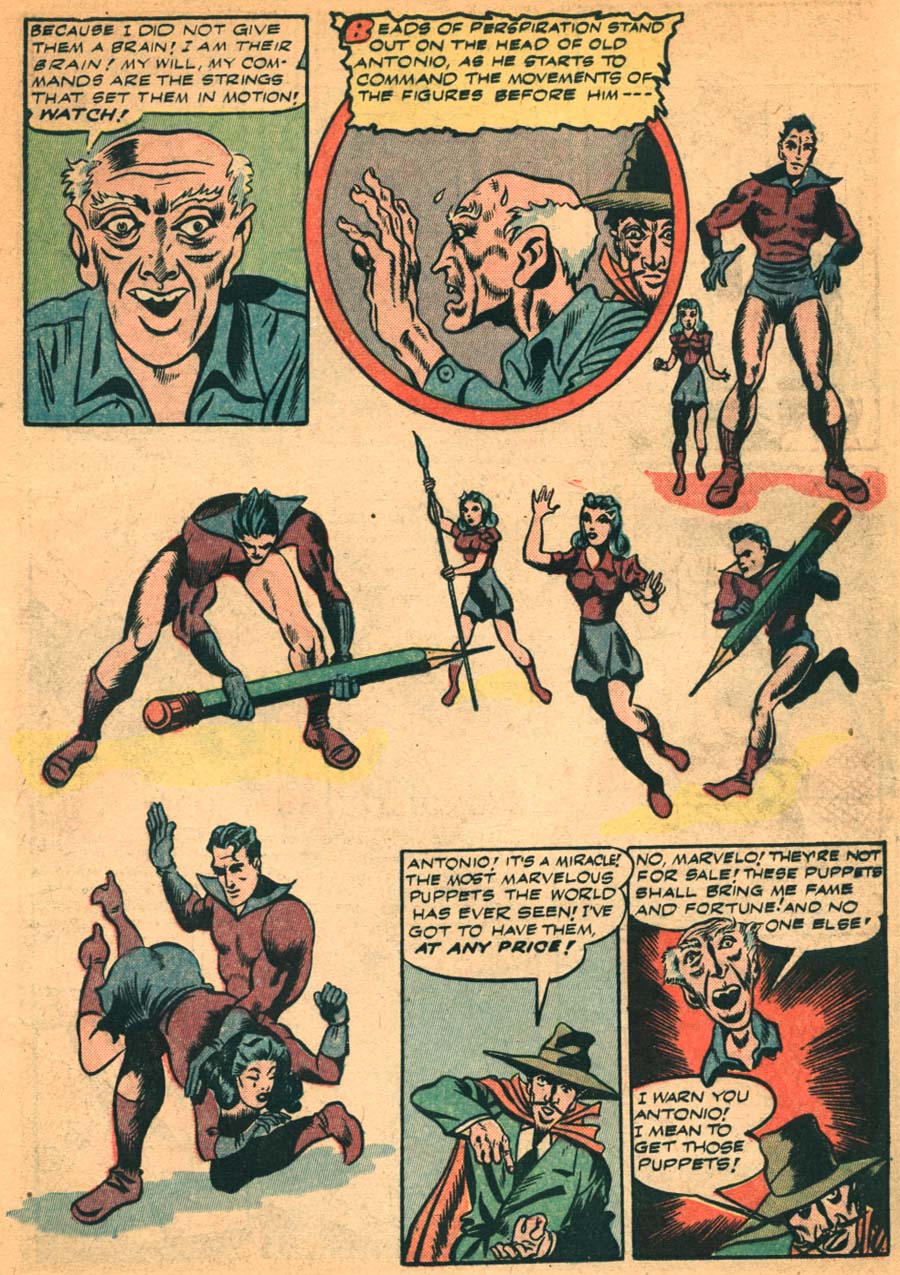 Now let's get to the really good stuff. We see our mad genius puppeteer concentrate, and lo! - the puppets come to life, moving, walking, and spanking! This guy may be mad, but his mind evidently works a lot like ours (maybe we should have phrased that differently), and he orders the male puppet to spank the female one!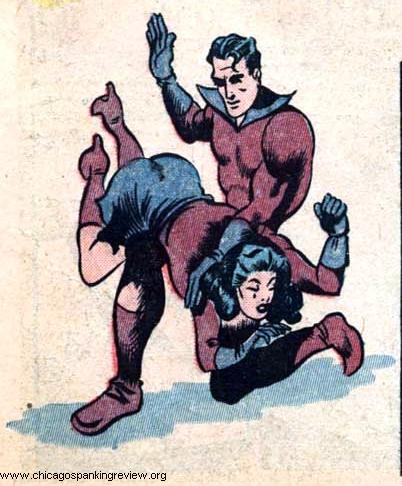 Seen in isolation, this is a very fine spanking, and you'd never know that the participants were anything other than full-sized adult human beings. The variant OTK position where one leg is bent is employed very effectively, with the spankee well bent over and her fanny raised high in the air - delightful! The buttocks are as well-defined as they can be given that the spankee is wearing a rather loose-fitting skirt, so there's really nothing to complain about.