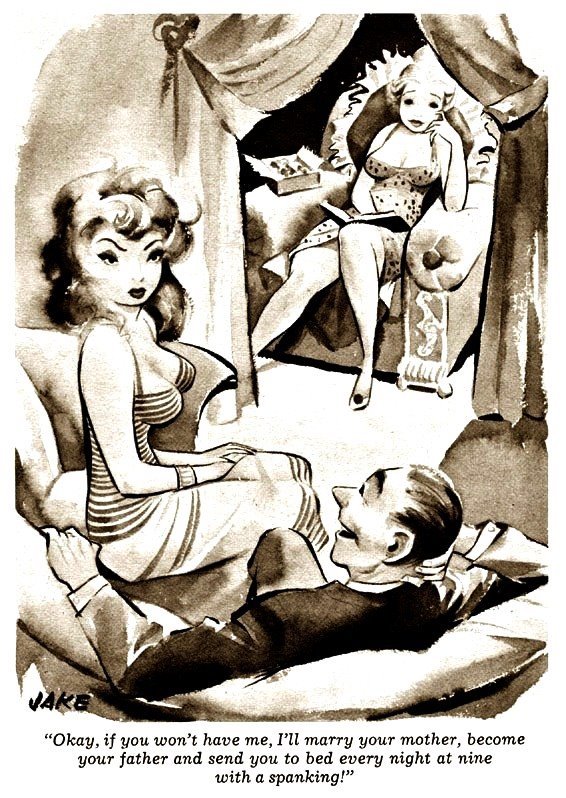 Jack Cole's talents allowed him to expand his horizons beyond four-color comics after Plastic Man, who had lasted longer than most super-heroes, ceased publication in 1956. He did some B & W cartoons for Humorama under the pseudonym "JAKE," some others in full color for Playboy under his own name, and finally in 1958 he sold his strip Betsy and Me to the Chicago Sun-Times Syndicate. He seemed to be at the absolute pinnacle of success for a comics creator. (We are not aware of any true spanking cartoons among his Humorama or Playboy work, by the way).
And yet something was terribly wrong. You can't see any sign of trouble in this spanking-themed cartoon from one of the Humorama digests (notice how completely different from Plastic Man the style is here), but under the mask of laughter, Cole was a deeply sensitive man. When he couldn't keep up with the demand for Plastic Man stories, he actually broke into tears. Exactly what was troubling him in 1958 is not known, although we have our suspicions, but on August 15 of that year he took his own life. Only one man still living probably knows the truth: Hugh Hefner, who received a note from Cole, the contents of which have never been revealed.
To indicate the high esteem in which Cole was held, we need only note that when Playboy's Classic Cartoons of the '50's was published, it was dedicated "To the memory of Jack Cole".