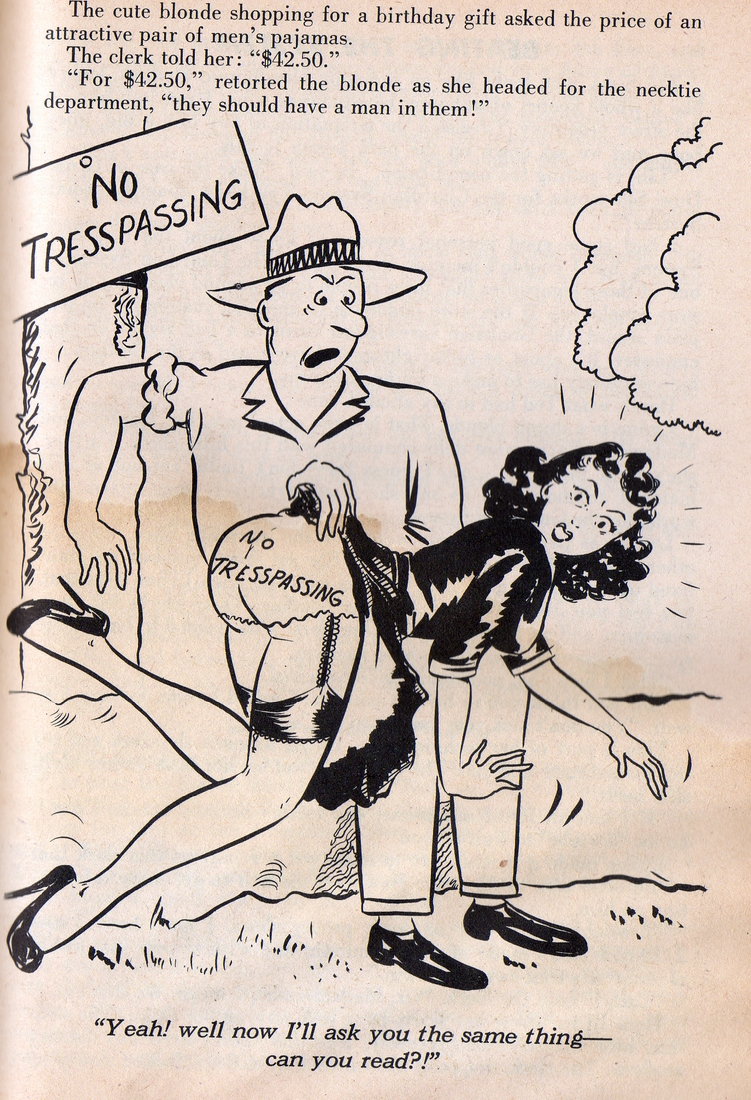 From the October, 1959 issue of Joker. From the collection of and posted by the Web-Ed on 05/17/2013 (click to double-size).
We mentioned recently in Secretary Spanking #37 that George Morrice had clearly modeled that effort on an earlier work of Kirk Stiles, and the same is true here where the spankee has lettered a heartfelt plea across her cami-knickers (see Stiles' Secretary Spanking #29). Morrice's trespasser got spanked in the October, 1959 issue of Joker, a year after Stiles' secretary lettered "How About a Raise" across the seat of her cami-knickers in the September, 1958 issue of Snappy.
The spanker's hat would seem to indicate that he's a forest ranger enforcing a "No Trespassing" zone, while our outraged spankee is upset that the same injunction lettered across the seat of her cami-knickers did not grant that seat immunity from being warmed. The ranger might have responded, "Too bad - it says 'No Trespassing' not 'No Spanking'!"
Morrice often does the OTK position well and he certainly did here - the spankee's back is nicely arched and her bottom turned up for the warming that will take place despite her best efforts to prevent it. She's also evidently distressed about being spanked, another Morrice characteristic, and this must be considered one of Morrice's best efforts overall. Like several other of his "spankers", we know it only from its first appearance prior to 1960, and whether it was later reprinted twice as most of the "spankers" were is still unknown. We believe it has never appeared on the internet before, and so are claiming it as another CSR historic first!