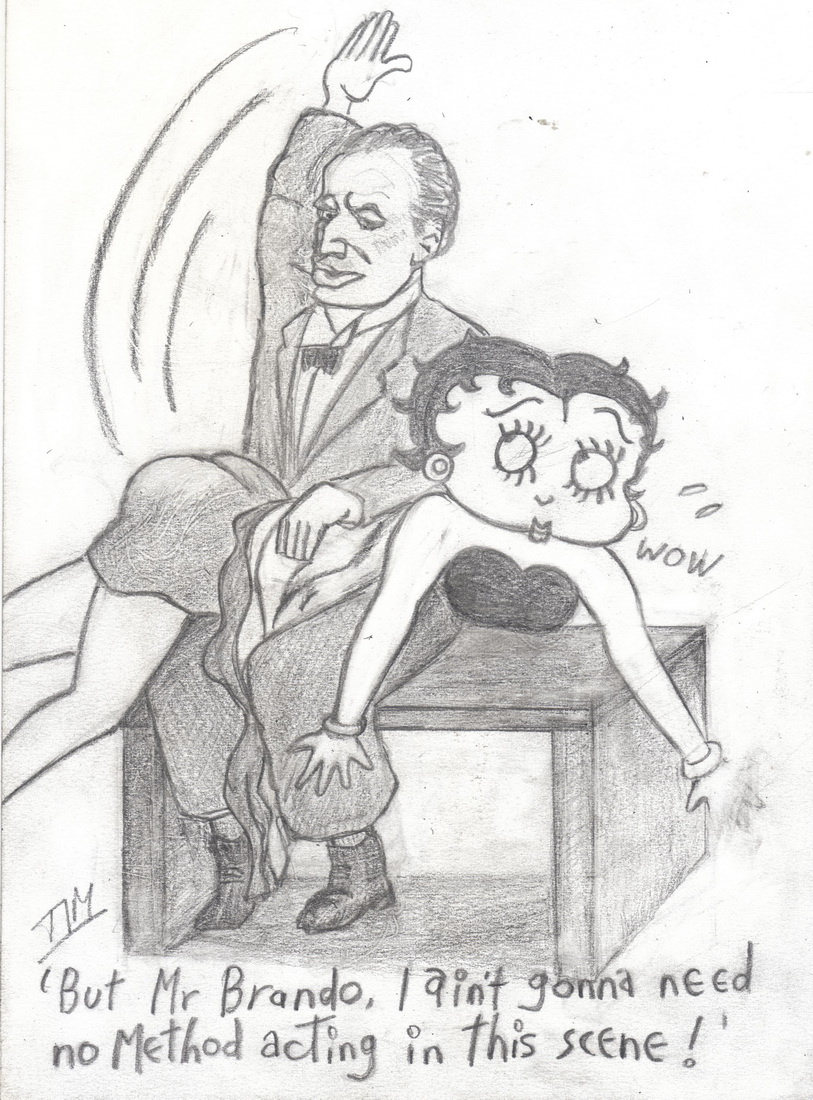 Created by Tim. Posted by the Web-Ed on 04/03/2015 (click to double-size).
We're still slightly out of order, but we want to consider #11 in Tim's series of Humorama Pastiches next. In it, Marlon Brando spanks Betty Boop, and considered as a pure spanking, it's more than satisfactory - good OTK positioning, and Brando's arm is raised high to deliver some very firm smacks to a well-defined target. But why these two very different film stars, and what is being parodied here?
Although she might be unknown to modern readers, Betty Boop was familiar to a legion of film fans from 1930 to whenever cartoon shorts stopped being shown in theaters and drive-ins. We even had a few of her black & white cartoons on 8mm film back in the 1960's. Betty was animated by the legendary Fleischer Studios, and while her complete history is too long to relate here, she has occasionally appeared in modern movies and television, for example in the film Who Framed Roger Rabbit? A caricature of a 1920's "flapper," she makes a natural spankee. Both Dave Wolfe and CSR Resident Artist Hugob00m certainly thought so since for they took the trouble to draw her in spanking cartoons. Dave's cartoon may be found on his own blog, ande B00m's animated "McWintock" may be found there as well.
About Marlon Brando nothing really need be said here except that he'd have certainly made an adequate spanker in his young or even in his middle-aged days - surely a spanking scene would have been appropriate in Last Tango in Paris - as he was both good-looking and fairly muscular. And yet Humorama never did anything exactly like this, so what elements are being parodied by Tim?
Perhaps it was suggested by Lou Magila's collage approach (seen for example in Secretary Spanking #44, although Magila always used a photo for the girl while drawing the other characters and objects himself, or maybe it's the gag we should be looking at: "But Mr. Brando, I ain't gonna need no method acting in this scene!" which has the flavor of something like Kirk Stiles' Double-Jeopardy Spanking. In both cases the spankee is making a logical but ultimately unavailing argument against getting spanked because the spanker has already made up his mind to go ahead, obviously because he will enjoy spanking her.