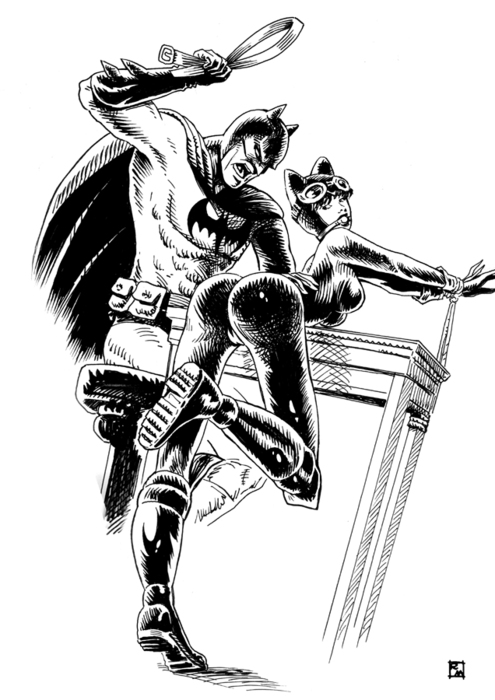 Art by Rafcut (Rafaele Marinetti). Characters © DC Comics Inc. Posted by the Web-Ed on 06/22/2012.
Rafaele Marinetti is an accomplished and versatile artist who is conversant with more than one style. We have seen his work with three other superhero spankings, Wolverine Spanks Storm, Batgirl Spanked by Joker #3, and Batman Paddles Batgirl, the last of which we commissioned from him for CSR. This time it's the Catwoman who receives Batman's belt, or at least somebody's belt (Batman is still wearing his own U-belt, so we're not sure whose it is).
Both figures are very lean - in fact, Catwoman is downright skinny, and Marinetti has certainly drawn her with much bigger thighs on other occasions, but the draftsmanship is admirable. This may have been early work, done under his old "Rafcut" alias on Deviant Art. There's a good bit of bondage here, also, which used to be typical of a Marinetti spanking piece. We say "used to be" because we think Marinetti doesn't want to draw bondage and spanking any more, which is unfortunate.
You can see more of Marinetti's work on his website.