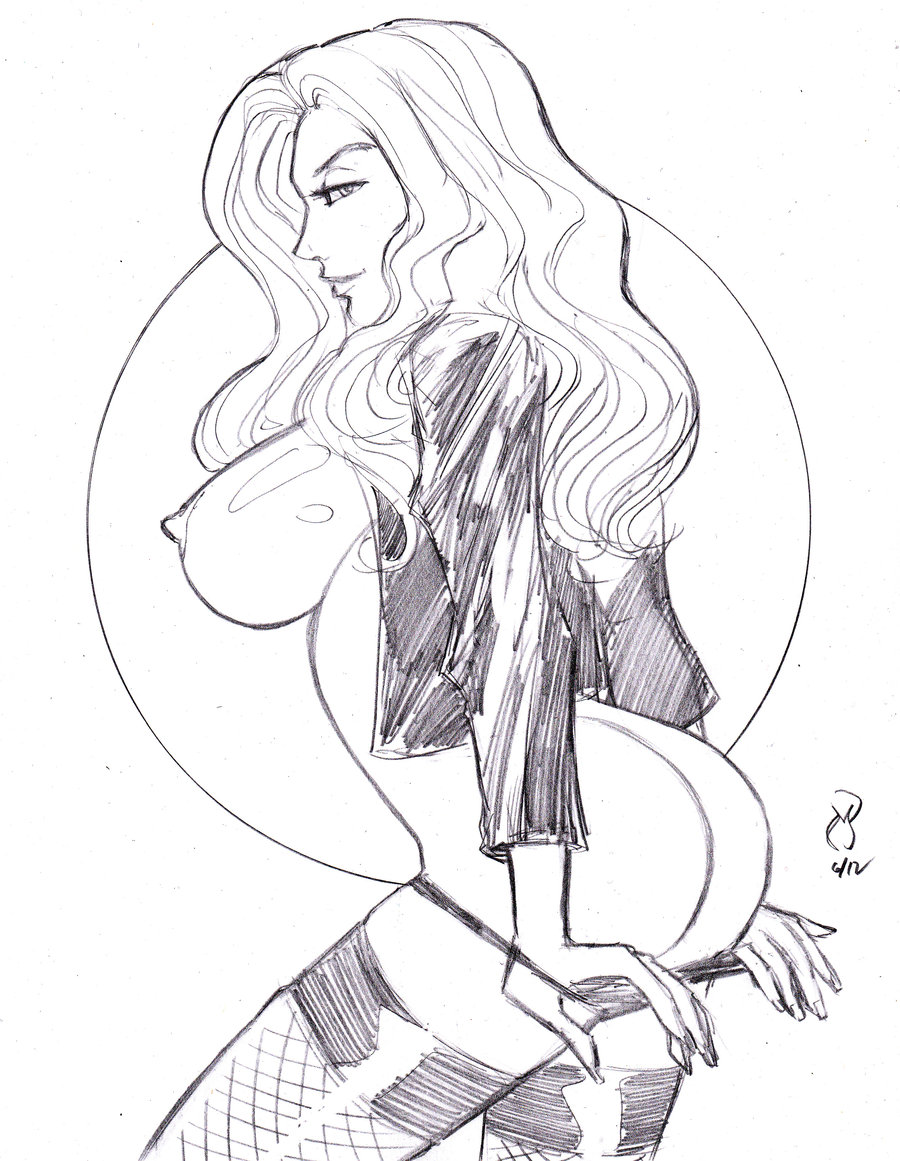 Art by Michael Powell. Characters © DC Comics Inc. Posted by the Web-Ed on 8/19/2016.
There aren't very many examples of Black Canary getting spanked - none in actual comics and until now only two on CSR (by Harley Quinn and by Gorilla Grodd). Before we get to the main event, let's savor this appetizer with BC lowering her panties (to us spankos, that can mean only one thing!). The art is by Michael Powell, whom we've only seen once before (in Wonder Woman Spanks Wonder Girl #5).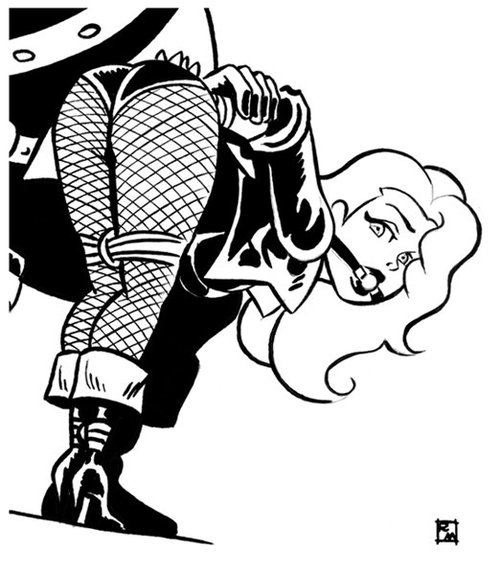 Art by Rafaele Marinetti. Black Canary © DC Comics Inc. Posted by the Web-Ed on 8/19/2016.
O.K., it's long past time to see Black Canary getting spanked! Here she is, OTK, bound, and gagged in this B & W piece by the extremely capable Rafaele Marinetti, who used to do quite a lot of bondage stuff on commission and who has been featured in this gallery numerous times. (We even commissioned him to do Batman Swats Batgirl and were very happy with the results, so it's a pity he doesn't do spankings any more). BC is nicely positioned in the sense that we get a nice view of the target, but we can't see quite what's holding her up. Her waist is clearly not being supported by the spanker's leg, so unless her upper chest is resting on it she's just standing there. And about the spanker: it's not clear who he is. The "sash" across his chest could be the strap holding Green Arrow's quiver, and GA is a logical spanker for BC since she was foolish enough to get involved with him. (For a little more about GA, see our 2012 article Whatever Happened to DC Comics Spanking During the Bronze Age, of all things. For more about Black Canary, see our explanation over on the CSR Forum.
We first saw this on Chross's Blog and have never seen it anywhere else. It may have been a private commission, and perhaps what we see here is a truncated version - that would explain why the spanker is not completely shown and perhaps what that strange object is (the end of a lexan paddle?) halfway down the left edge of the drawing.