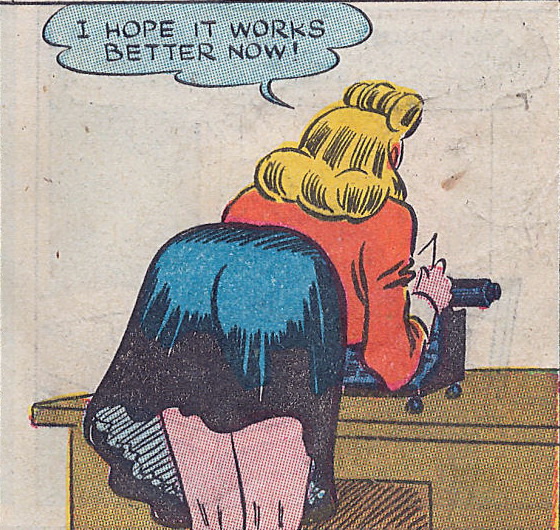 From Suzie #52 (Winter 1945-46). Art by Al Fagaly.
09/09/2016 Update: The poses we've seen so far came from a variety of sources, but Suzie did eventually get her own book, with Top-Notch Laugh Comics, which had already been renamed a few times, being renamed one more time to "Suzie". Let's see three more of Suzie, then, plus one of Taffy (one of Suzie's back-up features) from her own title. First "up" is this one from Suzie #52.
Suzie is working as a secretary in this one, and as she bends over the desk it would have been a great opportunity for a secretary paddling. The artist, Al Fagaly, defined the buttocks pretty clearly here, and in fact there is an after-spanking or after-booting panel (we can't be sure which) - see Suzie After Spanking - at the end of the story.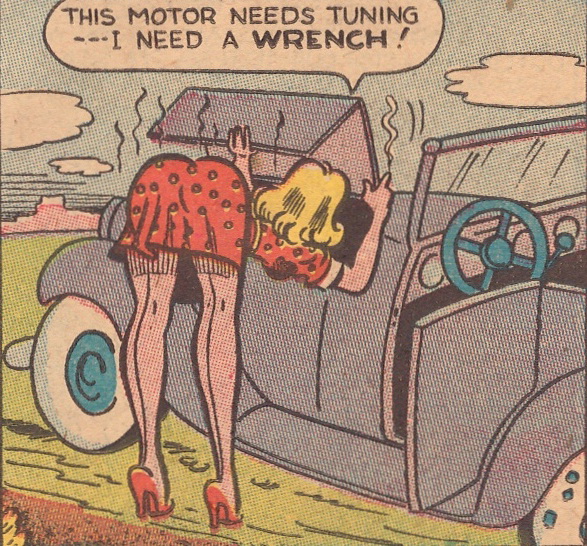 From From Suzie #53 (Spring 1946). Art by Bill Woggon. Published by Archie Comics.
One issue later we had not one, not two, but three such panels! First, in a panel that reminds us very much of Skygirl bending over to examine part of an airplane, Suzie bends over to examine her engine. The artist is the waggish Bill Woggon, who also scripted.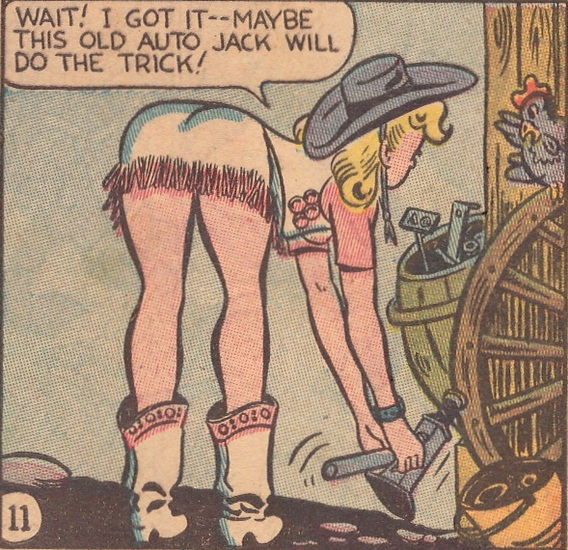 From From Suzie #53. Art by Bill Woggon.
Later in the same story ("Suzie Goes West!"), Woggon has her bend over for a second time! And this is after she's accidentally blown up her car and lands fanny-first on a cactus! (See Suzie's Behind in Jeopardy for that one).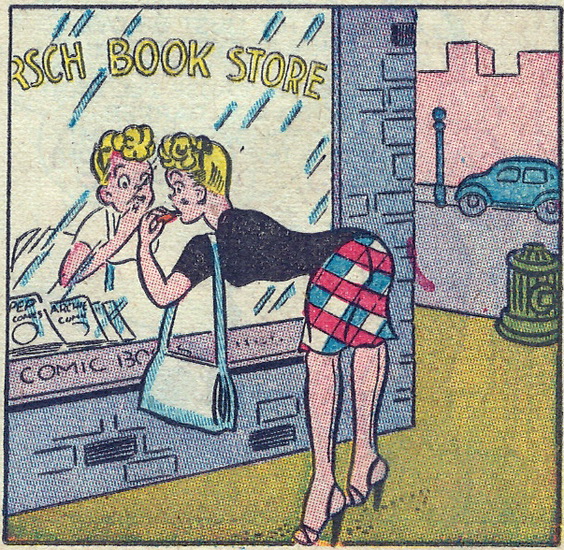 From Suzie #53. Art by Bill Woggon.
Comics were still 52 pages in those days, so Suzie had a number of back-up features, including the popular Katy Keene, the Archie-imitator Wilbur, and two other teen-age girls, Ginger and Taffy. We've decided to give Katy her own page, and Ginger doesn't seem to have assumed the position (although there were a few after spanking panels - see Suzie After Spanking), but Taffy did at least once - in Suzie #53, after Suzie had already done so twice! The artist is once again Bill Woggon, who obviously liked this type of pose - a man after our own heart! This is believed to be Taffy's first appearance, by the way.