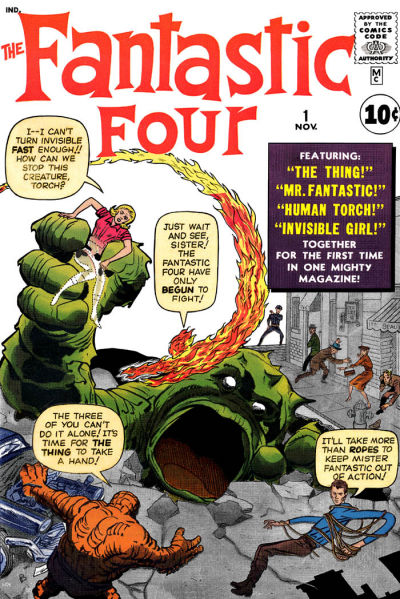 The cover of Fantastic Four #1 (November 1961) - the Marvel Age of Comics begins! Pencils by Jack Kirby, inker unknown. © Marvel Characters Inc.
Let's move on now to the swingin' sixties and see what's shakin', sweetie! As you might be able to tell from my attempt to copt Stan Lee's lingo, the most significant trend in this decade was the new approach to super-heroes pioneered at Marvel primarily by Lee, Jack Kirby, Steve Ditko, and Don Heck. This was so even though it was DC that had started the Silver Age by revamping The Flash and following up with new versions of Atom, Green Lantern, and other heroes from the Golden Age. The reason was that while DC had some good talent working for them, they did not have Jack Kirby, nor did they have anyone in management who possessed anything remotely like Lee's editorial vision, and after more than twenty years in the business he was ready to do something completely different. With artists Heck, Ditko, and most of all Kirby at his disposal, and with publisher Martin Goodman's desire to have Marvel do a superhero team book, the stage was set for what came to be known as the Marvel Age of Comics.
It began in November 1961 with the publication of Fantastic Four #1. Much more character-driven than anything DC was doing, the FF became an instant hit and other superhero titles quickly followed. Marvel stories were far more dynamic than DC's, and we might suspect from this fact alone that Marvel would have been more likely to run into trouble with the Code Office. While there aren't any official figures, many instances of the Code insisting on changes in Marvel books have been documented (for some details, see the references at the end of Part 4 of this article). We'll concern ourselves with only two here.